Armenian Genocide Testimonies to be Incorporated into USC Shoah Foundation Visual History Archive
Wed, 06/19/2013 - 3:07pm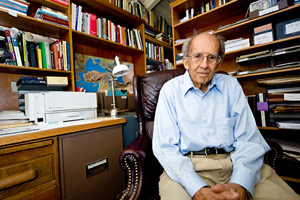 USC Shoah Foundation and the Armenian Film Foundation have announced a new joint goal: By the 100th anniversary of the Armenian genocide in 2015, they will integrate into the USC Shoah Foundation's Visual History Archive the more than 400 interviews of survivors of the genocide that were filmed by the late Dr. J. Michael Hagopian.
The interviews were recorded on 16mm film between the years 1968 and 2005. The survivors and witnesses who make up this rare collection - all now deceased - were interviewed in 10 different languages and were between the ages of eight and 29 during the genocide.
The 400 interviews represent the largest archive of filmed Armenian Genocide interviews in the world, and will add immeasurable content and context for research and learning when integrated into the Visual History Archive.
The Armenian Film Foundation is currently transferring the interviews from 16mm film to preservation-quality digital files (motion JPEG 2000). The files then will be delivered to USC Shoah Foundation, which will create broadcast-quality and Internet-quality versions of each interview.
Once digitizing is complete, the indexing process will begin. At the core of USC Shoah Foundation's indexing system is the one-of-a-kind Thesaurus, which includes 60,000 terms that describe genocide-related concepts and experiences. Indexing allows researchers to search the Visual History Archive by specific terms. The thesaurus has evolved over time and is expected to continue to evolve as the Armenian testimonies are indexed.
All non-English-language testimonies will be transcribed, translated into English, and subtitled for the Visual History Archive.
The majority of testimonies with Armenian survivors were conducted in Armenian or English, but numerous other languages spoken by survivors include Arabic, Greek, Turkish, and Kurdish. All non-English-language testimonies will be transcribed, translated into English, and subtitled for the Visual History Archive.  Once the testimonies are indexed, USC Shoah Foundation's education staff will incorporate them into existing materials and build educations programs specifically around the Armenian collection.
Dr. J. Michael Hagopian was an Emmy-nominated filmmaker who made 70 documentaries about the Armenian Genocide and won more than 160 awards for his work. He was a survivor of the genocide that killed an estimated 1.5 million people in Turkey from 1915–23. In 1979, he founded the Armenian Film Foundation, a Thousand Oaks, California, based nonprofit dedicated to documenting Armenian heritage. Hagopian died in 2010 at age 97.
Like this article? Get our e-newsletter.
Be the first to learn about new articles and personal stories like the one you've just read.