Israeli Ambassador to Hungary Observes Testimony Lesson at USC Shoah Foundation Partner School
Thu, 03/13/2014 - 4:31pm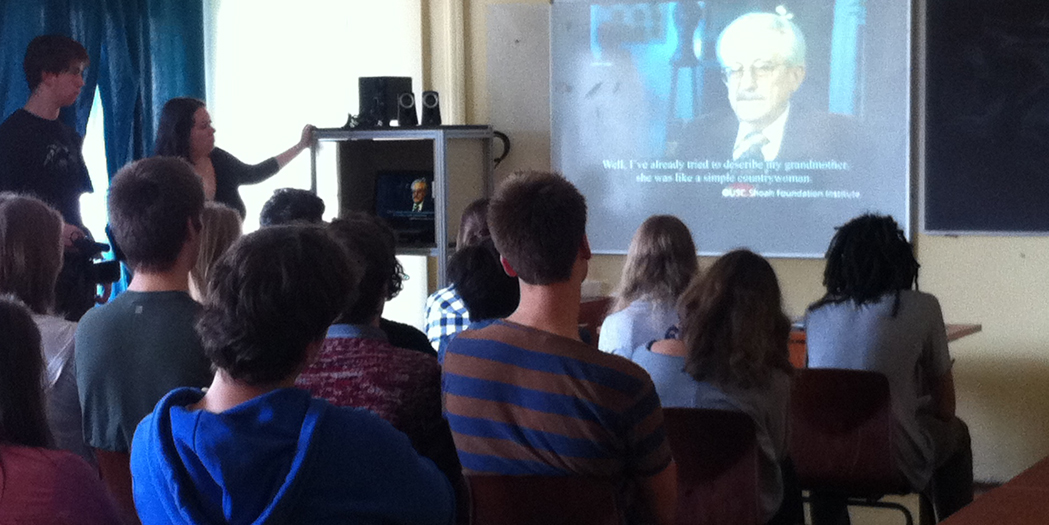 His Excellency Ilan Mor, Israeli Ambassador to Hungary, observed a lesson taught by a Teaching with Testimony in the 21st Century graduate at Berzsenyi Dániel High School, a USC Shoah Foundation partner school in Budapest, Hungary.
The lesson was part of the program the school offered for His Excellency's visit. Afterward, His Excellency spoke to the students about Israeli society and youth in particular.
Teaching with Testimony in the 21st Century is USC Shoah Foundation's flagship professional development initiative. It is a two-year program that incorporates workshops, mentoring, and community building to prepare educators to search for and utilize testimony in the Visual History Archive and digital learning tools such as the Institute's online education website IWitness. Participants, who are selected from applicants nationwide, engage deeply in the theory and practice of using testimony to achieve significant student learning. They create their lessons incorporating testimony and pilot them in their own classrooms.
The program has been offered in Hungary for the past two years.
The lesson was conducted by history teacher Dr. Monika Mezei and examined the question of antisemitism in the Horthy era in Hungary. Students watched testimony clips of four survivors to get insight into the way Jewish people lived in Hungary before the Holocaust and to consider questions of assimilation and identity. Then they learned about how this way of life changed with the appearance of anti-Jewish laws.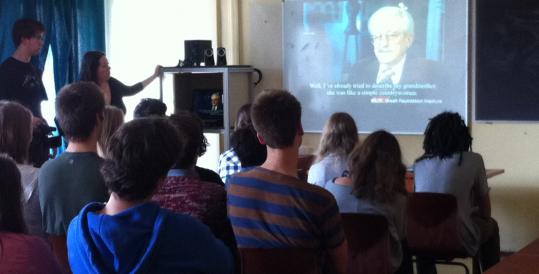 Students analyzed the text of the anti-Jewish laws and watched testimony clips reflecting on the implementation of these laws. The class engaged in a discussion about the impact of the laws on the individual survivors and their families.
Besides Ambassador Ilan Mor, the lesson was attended by school principal László Somogyi as well as other educators from the school.
Like this article? Get our e-newsletter.
Be the first to learn about new articles and personal stories like the one you've just read.