Hundreds of Students and Teachers Piloting IWitness in Rwanda
Mon, 06/16/2014 - 5:00pm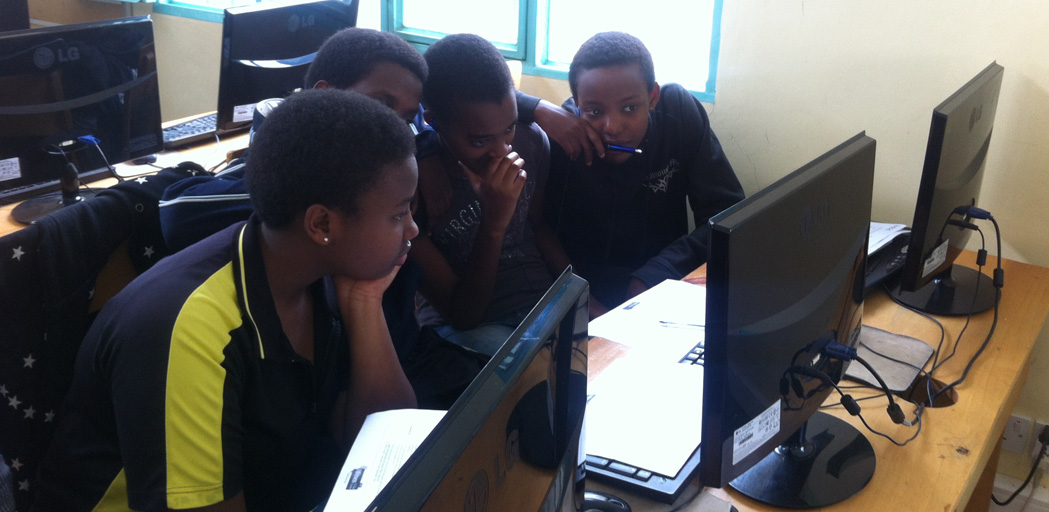 Two years into USC Shoah Foundation and Kigali Genocide Memorial's IWitness in Rwanda project, hundreds of students and teachers across Rwanda have been exposed to IWitness and talks are underway to incorporate it into the national curriculum.
IWitness in Rwanda aims to introduce secondary school teachers to IWitness, USC Shoah Foundation's interactive educational website, so they may use it in their classrooms to teach about genocide and tolerance.IWitness allows students to watch testimonies of survivors of the Holocaust and Rwandan Tutsi Genocide and complete activities using a built-in video editor. IWitness in Rwanda is a joint effort between USC Shoah Foundation, Aegis Trust and Kigali Genocide Memorial (KGM) that is funded by the UK's Department for International Development (DFID).
In Phase 1 of the project, students used IWitness at Kigali Genocide Memorial (KGM). In Phase 2, in November, 23 teachers attended the first IWitness educator workshop and then several went on to pilot IWitness at their own schools.
IWitness has now reached 22 schools – including schools that sent students to KGM to use IWitness, had teachers who attended the educator workshop, or held a classroom pilot. 
The first classroom pilot was held at Kagarama Secondary School in February, followed by Gashora Girls Academy (Bugesera District), College St. Andre (Kigali), Agahozo Youth Shalom Youth Village (Rwamagana District), Wellspring Academy (Kigali) and Glory Secondary School (Kigali). In total, six pilots were conducted by nine teachers and with 155 students. A total of 261 students have now been engaged on the IWitness in Rwanda project. 
In March, teachers were invited to participate in training sessions convened by the Rwanda Education Board (REB), ICT department. Nearly 300 teachers attended four 2-hour IWitness presentations and site demos in Musanze, Nyamagabe, Ruhango, and Muhanga about IWitness and how it can be used with the Rwanda National Curriculum.  All of the teachers who attended expressed interest in receiving IWitness training.  To help them meet this training demand, IWitness staff will follow up with the Rwandan Education Board about how they can empower and train their trainers on how to use the IWitness platform and how it fits into the Rwandan school curriculum so that they can be the ones to deliver these trainings moving forward.
Counting the REB sessions, IWitness in Rwanda staff have conducted presentations and demonstrations for 181 school headmasters and over 300 secondary school teachers.
The next teacher training is set to take place July 31-August 1. This time, the training will be held outside of Kigali and teachers will be recruited from the Kamonyi, Muhanga, Ruhango, Huye and Musanze districts. This training will be more hands-on for the participants as they will have more time on the computers to practice what they've learned. The change is based on participants' feedback from the first workshop. At least two more classroom pilots will follow.  
In addition, the IWitness platform recently begin incorporating materials from the Genocide Archive of Rwanda (GAR), managed by Aegis Trust.  The archive will be fully discoverable in IWitness and its assets usable by students.  The video testimonies, documents, photographs and more from GAR will bring a rich source of relevant new materials to be used by Rwandan teachers. 
Over the next few months, IWitness will also begin offering activities that are more relevant to the national Rwanda school curriculum.
From evaluation of IWitness teacher trainings and classroom pilots, the IWitness staff have begun to understand the value and impact of using testimony to teach in Rwanda.  Teachers report that IWitness provides a valuable resource for those who may have difficulty teaching about genocide because it is such a sensitive topic, including one who said, "IWitness gives me a way to discuss the topic of genocide without fear."  IWitness also has a strong impact on students, giving them motivation to stand up to intolerance and to teach others about what they learned.
Like this article? Get our e-newsletter.
Be the first to learn about new articles and personal stories like the one you've just read.