IWalks in Vinohrady and Radiotrh, Czech Republic, Published Online
Wed, 03/11/2015 - 5:00pm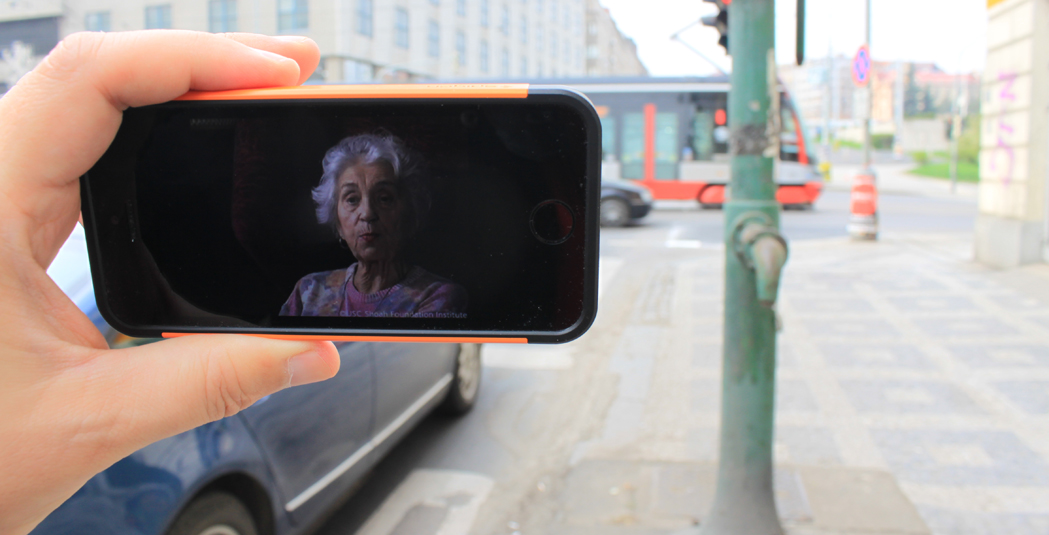 The complete resources and video clips for two IWalks in Czech Republic have been published on the USC Shoah Foundation website. These online resources make it possible for anyone to embark on the IWalks and hear the stories of survivors in the authentic locations where they experienced the Holocaust.
Launched in Hungary in 2012, IWalk is an interactive educational program that connects concrete physical locations with memories of historical events that took place on these locations in several European countries. Holocaust survivor and witness testimonies from USC Shoah Foundation's Visual History Archive are combined with other primary sources during visits to authentic locations to provide the often missing spatial, social and regional contexts as well as the personal aspect of historical events. The designed onsite educational activities support the development of personal connection of students and members of the public to the past – enabling an impact of their actions in the present and the future.
IWalks are currently offered for Budapest and Prague. Prague's Vinohrady and Deportační centrum na Radiotrhu are the first IWalks to be offered online.
Vinohrady is a district of Prague that was home to a thriving Jewish population before World War II. Settling in Vinohrady in the late 19th and early 20th century, many Czech Jews began to question and redefine their identities, feeling for the first time that they were part of the Czech nation instead of purely outsiders.
The Vinohrady IWalk is made up of eight stops, including the synagogue, Jewish orphanage, hospital, and flats that were occupied by Jewish families. Each stop includes testimony clips, photographs and biographical information about the survivors featured in the testimony. There are also several discussion questions that viewers may want to consider as they listen to testimony.
Radiotrh, or "Radio Mart," is a former exhibition hall in Prague that was used as a collection center for Jews before they were deported to Theresienstadt and other camps and ghettos. The IWalk includes three testimony clip reels about survivors' experiences being deported from Radiotrh, including the deportation of children from "mixed" families.
IWalk is a collaboration with the Czech NGO OpenEye. The latest series of IWalks, in Vinohrady, Brno and Mlada Boleslav, was established with the financial support of the Foundation for Holocaust Victims (NFOH).
Like this article? Get our e-newsletter.
Be the first to learn about new articles and personal stories like the one you've just read.