Remembering a Lost Friendship from 7th Avenue
Fri, 04/03/2015 - 5:00pm
Over the last few days I've overheard my grandmother and father talk endlessly about Celia Tiano, an Auschwitz survivor from Salonika, Greece, their next-door neighbor on 7th Avenue -- a quiet block in the Hyde Park area of L.A., during the 1950s and 60s. After more than 40 years, my family has reconnected with Celia -- through testimony. We were able to make this connection because of a film project I had been working on for the Student Voices Short Film Contest.
For my film, I used the stories of two women who did not know each other: Esther Bem, a Jewish Holocaust survivor from Croatia and my grandmother, Angela, an Irish-American Catholic mother and teacher from Los Angeles. I attempted to draw parallels between their stories by using the lens of intolerance to explore their exposure to anti-Semitism and hate. I had no idea that by interviewing my grandmother, I was about to uncover a story and revive memories of a long lost friendship.
In preparation for my film project I asked my grandmother a question about the Holocaust and she immediately mentioned the Tiano family. My grandmother, who is struggling through early stages of dementia, perfectly remembered this couple, the relationship they had, and that both the husband and wife were survivors of Auschwitz. Their children played together, my grandparents attended their son's Bar Mitzvah, and the two couples helped each other as most neighbors do. The only thing she couldn't remember was their first names. Her two eldest children, including my father, also could not recall the parents' names. They only remembered their childhood friends, Isaac, Dorothy, and Michael Tiano.
My grandmother's mention of the family triggered my memory, and I realized I had heard this story before. Ever since I was a little girl, my grandmother would fondly recall the Jewish family that lived next door when she was a young mother with four children. Mr. and Mrs. Tiano were also a young couple with many children. After some years, the Tianos moved out, and they kept in touch for a while, but my grandmother couldn't remember much more. She only knew that both Mr. and Mrs. Tiano has passed away at some point.
After submitting my project, I stopped by USC Shoah Foundation, where I intern with the Communications department, and shared this incredible story. While I had considered looking them up in the Visual History Archive, I thought it was unlikely that they had been interviewed. Since my grandmother said they had both passed away, I assumed it was a long time ago, and all I really knew for certain was their last name.
Yet, my colleagues insisted on searching the Archive for any trace of a Tiano family in Los Angeles. After just a few minutes, we came across the only Tiano's who were Auschwitz survivors that had resided in Los Angeles, California.
Their names are Celia and Marc Tiano.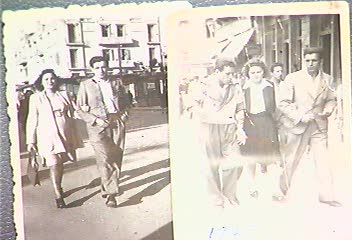 Seconds later, I called my grandmother, and exclaimed, "Grandma! Do you remember a Celia and Mark Tiano??!" She immediately said "Yes! That's them. Celia and Mark! I remember!" We found both testimonies. Celia's testimony is in English and Mark's is in Greek. It was like finding a hidden treasure, shrouded in a web of foggy memories, but available for viewing through the Visual History Archive.
My grandmother, father and I all watched Celia's full testimony together. My father found it incredible to suddenly know, as an adult, what Celia went through as a cheerful young girl living in Greece, then as a prisoner of Auschwitz, one of the largest, most deadly concentration camps, and as a resilient survivor, wife, mother and grandmother. He felt a certain kinship by hearing her early life history, and was astounded by her sharp memory. Watching the testimony helped him connect his distant memories of the Tiano family with fond memories of his childhood growing up on 7th Avenue. It was a childhood friendship that he will never forget.
My grandmother was amazed because although Celia and she were friends, there was so much more she didn't know about her history and most poignantly, her suffering. She knew Celia and Mark had suffered tremendously--Celia explained they were survivors of the Holocaust, and my grandmother will never forget the numbers tattooed on their arms. My grandmother is a rather strong woman, but the testimony brought tears to her eyes. She has had a glimpse into the life of an old friend, and after hearing her testimony of pain, suffering, hate, survival, and resilience, my grandmother responded, "I understand so much more now."
Like this article? Get our e-newsletter.
Be the first to learn about new articles and personal stories like the one you've just read.