"Auschwitz: The Past is Present"'s Educational Legacy in Poland
Wed, 01/27/2016 - 5:00pm
USC Shoah Foundation's Polish Regional Consultant Monika Koszyńska was in the unique position of hosting Auschwitz: The Past is Present in her own backyard. She says that among the educators she hosts at teacher trainings, workshops and professional development programs across Poland, APIP has been a powerful force over the past year.
When she and Adam Musial, an APIP teacher from Poland, tell Polish educators how teachers and students came to Poland from around the world to take part in USC Shoah Foundation's program to commemorate Auschwitz, teachers are very impressed.
Auschwitz is a cornerstone of their teaching about World War II and the annual commemoration of its liberation is a huge event in Poland, with a television broadcast of the ceremony and national media attention, so to hear how these teachers got to attend the commemoration and be part of APIP is very inspiring for them.
Polish teachers are especially eager to join USC Shoah Foundation's worldwide network of educators, survivors and staff. In fact, one teacher has already taken advantage of Koszyńska's connections: Brandon Barr, USC Shoah Foundation regional consultant in Chicago, introduced the teacher to a local survivor who was born in the teacher's town. The survivor has since traveled to Poland to speak to the teacher's class and work on projects together.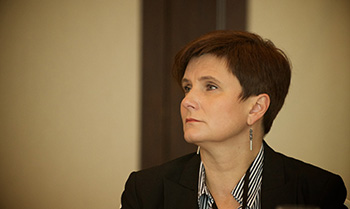 Monika Koszynska
"For the teachers, [APIP] motivates them to do something," Koszyńska said. "They see that they can become part of a worldwide community and stay in touch with teachers around the globe."
To commemorate the 71st anniversary of the liberation of Auschwitz on January 27, 2016, the Museum of the History of Polish Jews hosted educators, students and parents to debut a brand-new Polish language IWitness activity about Roman Kent, who spoke at the commemoration last year, and launch a Polish-language version of Kent's book My Dog Lala.
The teachers are participating in a year-long professional development program at the museum to learn about the 1,000-year history of Polish Jews and how this history can be used in education. Teachers who attend this course get familiar with all educational tools the museum uses, including the Visual History Archive and Teaching with Testimony Program.
Like this article? Get our e-newsletter.
Be the first to learn about new articles and personal stories like the one you've just read.