Celebrate Digital Learning Day with USC Shoah Foundation
Tue, 02/16/2016 - 5:00pm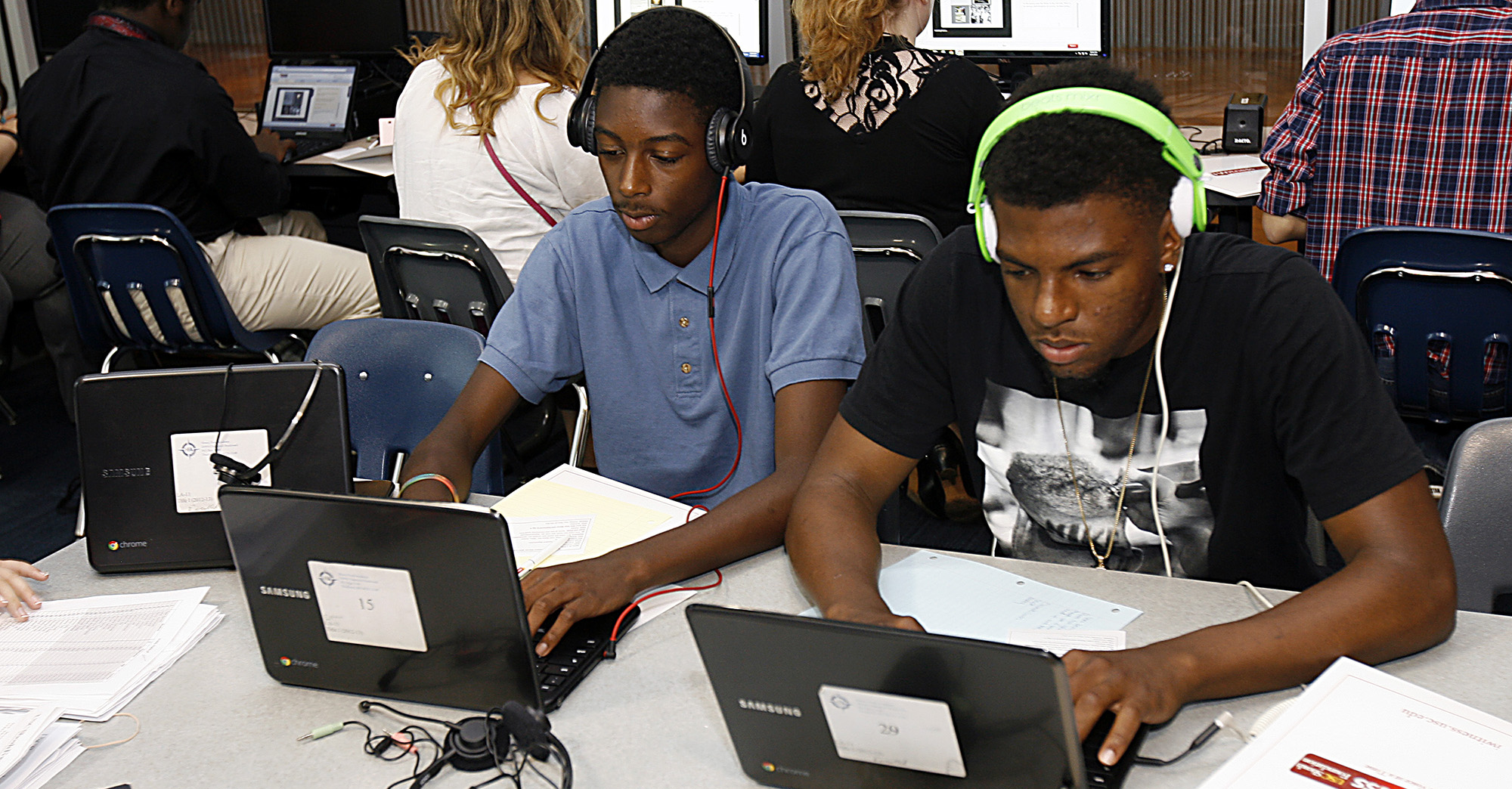 On Wednesday, Feb. 17, students and educators across the nation will celebrate the intersection of technology and learning, something USC Shoah Foundation is at the forefront of, with Digital Learning Day.
Organized by the Alliance For Excellent Education, a national policy and advocacy organization, Digital Learning Day is an annual opportunity to celebrate innovative teaching and spread it throughout the country so that all students have access to high-quality digital learning.
USC Shoah Foundation provides some of the tools that educators can choose to use on this day, or any other day in their classroom. The Institute has developed myriad of programs to effectively utilize the thousands of hours of video testimony to achieve cognitive learning in students around the world.
One project students can work on during Digital Media Day is USC Shoah Foundation's third annual IWitness Video Challenge, announced last month. The competition asks students to make an impact on their community by identifying a problem, addressing it, and then making a video documenting their efforts that also can incorporate video testimony they were inspired by.
"Not only does the IWitness Video Challenge enable students to link their voices to those in the Visual History Archive who inspired them to act, but it also teaches them digital skills that are so important for students today," said USC Shoah Foundation Executive Director Stephen D. Smith of the challenge.
The 2015 winners, Emma Heintz and Natalie Podstawka, wrote more than 400 notes with personalized compliments and encouragement to distribute throughout their school after watching a video of a Holocaust survivor who who said something a simple as a man smiling at her made her feel better about wearing a yellow Star of David for the first time.
"We wanted to show our peers that we care and that their happiness is important," Heintz said.
The video competition is one of 39 activities on IWitness, the Institute's online resource for students and educators, which incorporates testimony into lesson plans designed primarily for middle school and high school students that are then made available free online.
Many educators have found these lessons really succeed in getting through to students -- both through their use of technology and through their use of first-person testimony.
"The question 'How do you teach this stuff?' is what brought me to USC Shoah Foundation in 2010 to begin my training and work as a Master Teacher," Corey Harbaugh, Director of Teaching and Learning at Fennville Public Schools in Michigan, wrote in a blog. "I was beginning to understand that survivor testimony is the formative center of Holocaust education, that once a student begins to see Holocaust education content through the lens of testimony, the education and the student begin to change in ways that are profound. I had that experience myself as a student of the Holocaust, and I found that USC Shoah Foundation's educational website IWitness could and would provide that experience to my students."
In addition to IWitness, USC Shoah Foundation has developed other digital learning resources. The Institute's Online Exhibits compile testimony about around a certain subject so students can get multiple viewpoints on an event or topic. Currently 30 exhibits in 13 different languages are available online.  Testimony-based lessons for teachers, which include the relevant clips and lesson plans, are also available on USC Shoah Foundation's website in 11 languages.
"In my experience, students are almost instantly bonded with the person on the screen, and the story of another man urges them to think and to discuss questions that might not be so appealing for them if they read about them in a textbook," wrote Ingrid Alexovics, who heads up the Foreign Language Department at Radnóti Miklós Economic Secondary School in Pécs, Hungary, in a 2014 blog post. "Audio visual interviews somehow make the problems alive, forcing the students to share their ideas about them."
Like this article? Get our e-newsletter.
Be the first to learn about new articles and personal stories like the one you've just read.