Over 800 New Indexing Terms to be Added to Visual History Archive Thesaurus
Fri, 08/26/2016 - 5:00pm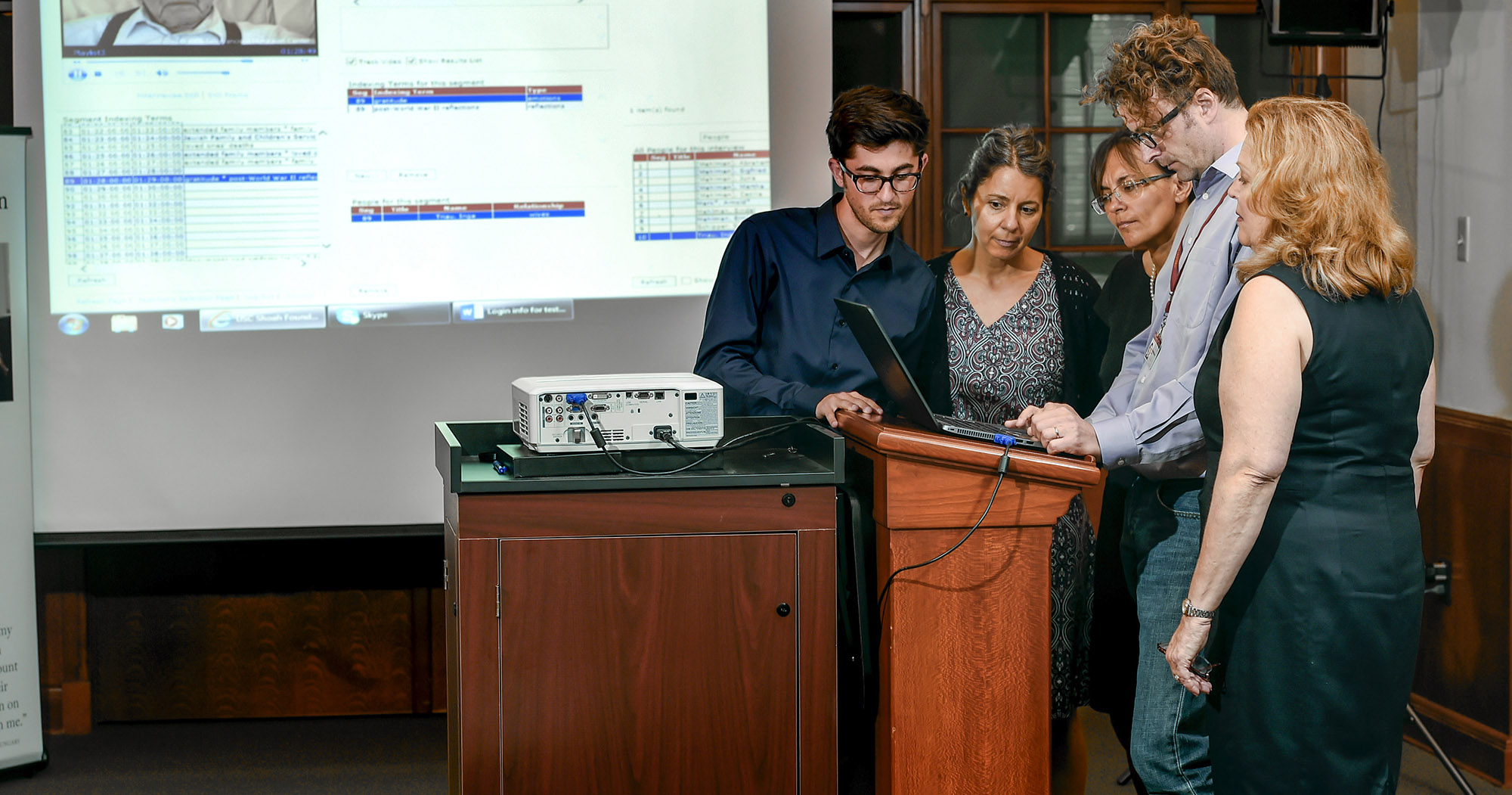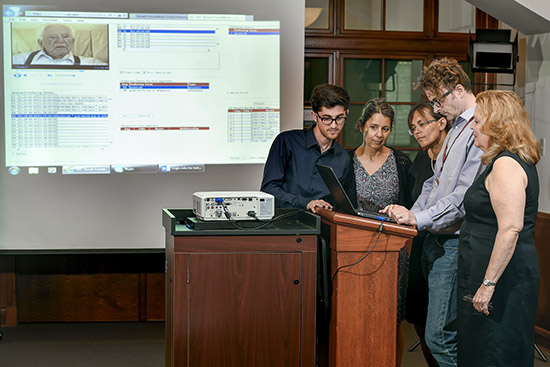 Crispin Brooks, second from right, and indexers Zach Albert, Debbie Kahn, Sventlana Ushakova and Nancy Saul
A team of USC Shoah Foundation researchers has identified over 800 new indexing terms that will be added to the Visual History Archive when it undergoes its next big update in the coming weeks.
The new terms were generated from approximately 1,250 testimonies from the Institute's new Holocaust Canadian Collections, the final 88 testimonies from the Armenian Genocide Collection, 25 additional testimonies of the 1994 Genocide against the Tutsi in Rwanda, and the first 10 Guatemalan Genocide testimonies, which will all be added to the Visual History Archive with the next update.
Over the past year, a team of indexers has watched each new testimony and used the Institute's indexing software to assign indexing terms to each minute of the testimony. These terms include names of people, places, historical events, emotions, organizations, and general experiences, such as "hunger" or "hiding." The Institute's current thesaurus contains over 63,000 terms, which visitors to the Visual History Archive use to search through the archive's 53,000 testimonies.
Whenever the indexers came across a segment that they felt they could not index with the current choice of terms in the thesaurus, they sent it to Crispin Brooks, curator of the Visual History Archive. Brooks would then work with a smaller group of indexers who are experts in particular subject areas or geographies to research each proposed term and help determine whether it should be added to the thesaurus.
Brooks said it was important for the indexers to consult at least three sources – historical documents as well as modern sources – when researching each new term.
For the most part, the new Holocaust terms reflect similar experiences to those encountered in previously indexed Holocaust testimonies in the Visual History Archive before, Brooks said. However, there are a handful of new terms that may have been overlooked, deemed not relevant, or categorized under more generic terms when the indexing of the USC Shoah Foundation's original collection took place 12-20 years ago.
Some of the new terms include "drugs," "killing motivations," "quarantine" and "aid giving motivations." There are also dozens of new geographical terms, political groups and military terms.
By adding new terminology, the thesaurus is simply undergoing a natural process of fine-tuning to better reflect the content of the testimonies – though it's also important to not add too much. The thesaurus is only useful when it's consistent and carefully curated, Brooks said. Too many terms would actually make the archive more difficult to index and search.
"It's always being refined and it's always going to change a little," Brooks said. "But we try to be careful so that concepts don't start to overlap and lose their integrity."
For the Guatemalan collection, Brooks employed a different approach in order to create terms for a brand-new collection. With the help of interns and Guatemalan Genocide scholar Victoria Sanford, he created a spreadsheet of terms drawn from the indexes of scholarly works on the Guatemalan Genocide. In turn, the vocabulary informed the proposed terms suggested by Ita Gordon and Sandra Gruner-Domic, the collection's indexers.
For Brooks and Gordon, who have worked with the Visual History Archive for years, dealing with the recent influx of new collections, which can be very different from the Institute's original 52,000 Holocaust testimonies, is a bit of a new world. But Brooks said he and his colleagues have proven that they (and the archive) can adapt to change.
"It's important to not rule out [new terms] because of our original Holocaust-focused approach, and be open to new things, phrasings, and concepts," Brooks said. "We're more fluid, sensitive and able to cope with the demands of working on these new collections."
Like this article? Get our e-newsletter.
Be the first to learn about new articles and personal stories like the one you've just read.