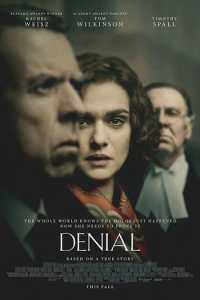 IWitness has partnered with Participant Media and Bleecker Street Media to provide educational resources for the new film Denial, which tells the true story of the Holocaust denial libel trial between Deborah Lipstadt and David Irving.
Based on the acclaimed book Denial: Holocaust History on Trial, Denial recounts Deborah E. Lipstadt's (Academy Award® winner Rachel Weisz) legal battle for historical truth against David Irving (BAFTA nominee Timothy Spall), who accused her of libel when she declared him a Holocaust denier. In the English legal system, in cases of libel, the burden of proof is on the defendant, therefore it was up to Lipstadt and her legal team led by Richard Rampton (Academy Award® nominee Tom Wilkinson), to prove the essential truth that the Holocaust occurred.
Educators can find several resources to support their teaching of the film on the IWitness website's dedicated page Teaching with Film – Denial.
First, USC Shoah Foundation partnered with ADL and Echoes and Reflections to produce a teacher's discussion guide to accompany Denial. The guide offers suggestions for introducing students to the concepts of antisemitism, Holocaust denial and the key individuals in the film before they watch as well as discussion questions and extension activities after they've watched the film.
IWitness has also curated a collection of 10 testimony clips from the Visual History Archive in which survivors of the Holocaust, Armenian Genocide and 1994 Genocide Against the Tutsis in Rwanda talk about genocide denial. They share experiences they've had with deniers and talk about why it is unacceptable to allow people to claim that certain genocides did not happen. In addition, educators can watch the trailer and three clips from the film itself.
Finally, educators can also browse a selection of links to websites that can further their and their students' learning about the Lipstadt case, genocide denial in a variety of contexts, and effective ways to respond to denial.
Denial is currently playing in select U.S. cities and will be in theaters everywhere Oct. 21.