"Re-Imagining Indexing" Workshop Plans for Future of Indexing
Thu, 10/20/2016 - 5:00pm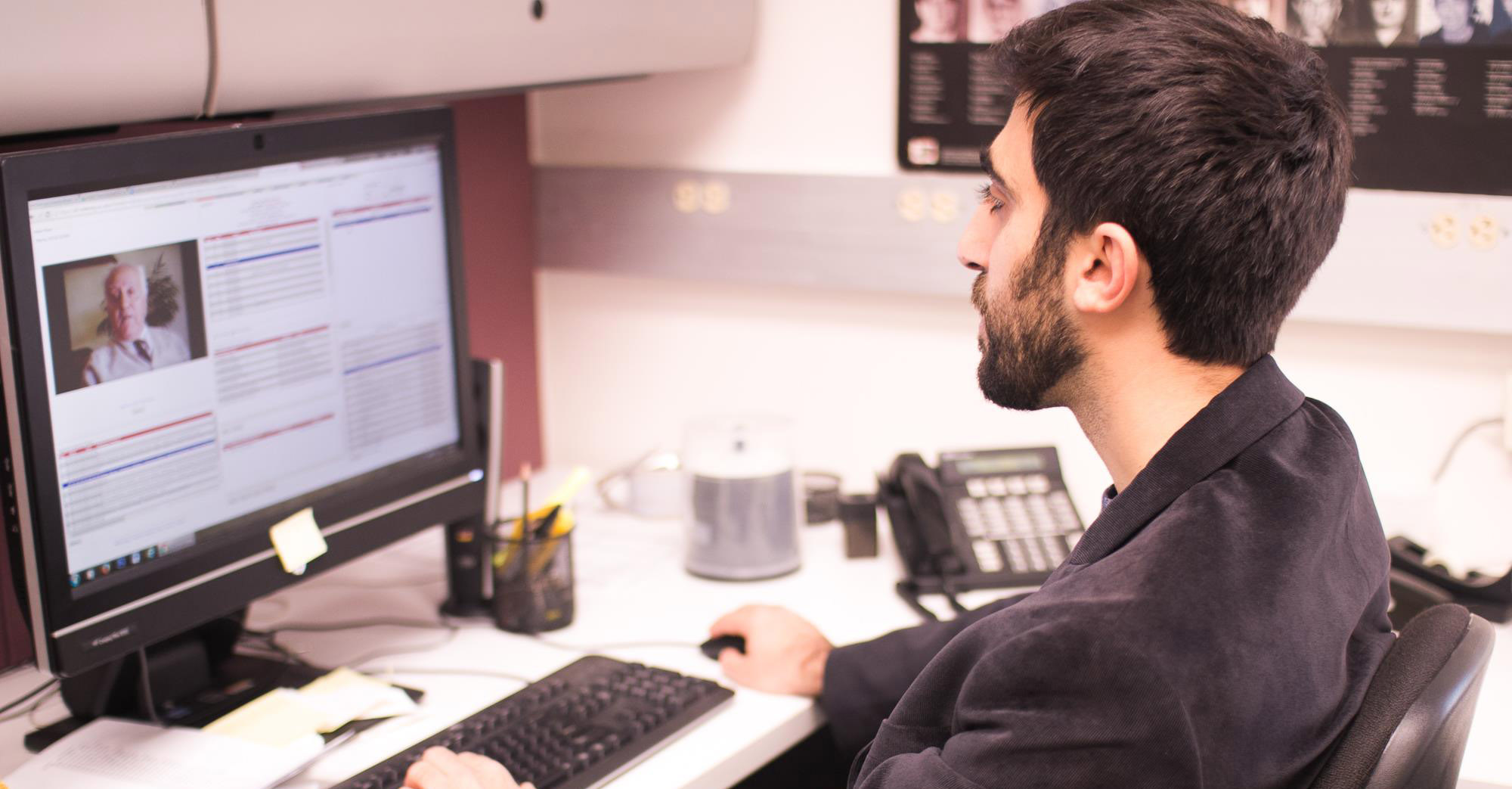 The Rethinking Indexing Workshop group: Back row from left: Scott Spencer, Andrea van Noord, Crispin Brooks, Allan Shapiro. Front row from left: Emilie Duranceau, Judy Janec, Ita Gordon
USC Shoah Foundation staff came together last month for a weeklong discussion about how to update its intricate process of indexing each new testimony added to the Visual History Archive. From the discussions, the staff is considering several new ideas that will allow indexing to keep up with the rapidly expanding archive.
Every new testimony that is added to the Visual History Archive is indexed by a researcher hired by USC Shoah Foundation. The indexer watches the testimony and assigns indexing terms from the archive's 60,000+ word thesaurus to each minute of the testimony, describing what the interviewee is talking about in that particular minute, for example, people, places, events or themes. Once they are fully integrated into the VHA, testimonies can then be searched to the minute using the indexing terms that the indexers have assigned.
Traditionally, a new group of indexers has been trained to work on each collection of testimony that is added to the archive. The group often also includes staff from organizations that provide the collections or are partners conducting new interviews adding to the archive, such as the Rwandan Genocide collection, Jewish Family and Children's Services collection, or the new Canadian Collections. The indexers spend a month at the USC Shoah Foundation office in Los Angeles being trained on indexing methodology by the Institute's full-time staff, then return home (potentially anywhere in the world, from the U.S. to Rwanda or Canada) where they can index remotely using the Institute's web-based indexing software. They continue to receive personalized feedback from the staff on their work.
However, as the archive takes in more collections from other institutions –hundreds or thousands of testimonies at a time – through its Preserving the Legacy program, and/or by adding newly recorded testimonies in new countries such as Guatemala and China, this system may become unsustainable. It may be too expensive and difficult for a small staff at USC Shoah Foundation to conduct one-month trainings at USC SF offices, and thereafter manage the number of indexers necessary to complete a large number of testimonies and to keep up with demand and interest, in particular for partners to be trained in the work.
The "Re-Imagining Indexing" workshop in September 2016 was an opportunity for USC Shoah Foundation staff Karen Jungblut, Director of Collections; Crispin Brooks, Curator; Scott Spencer, Project Manager of the Holocaust/WWII Audiovisual Collections for the Preserving the Legacy Initiative; and Ita Gordon, Consultant, to think critically about the future of indexing at USC Shoah Foundation and brainstorm some practical ways to "scale up" the process to meet the needs of the new collections, and partners globally.
They were also joined by current indexers and/or consultants Andrea van Noord, Judy Janec and Emilie Duranceau, and Allan Shapiro, who helped the Institute record testimonies about current antisemitism in Denmark last year. They shared their own views on how changing the indexing training process could impact the indexers themselves, the process, and enable partners globally.
"We work with many different partners who want to replicate what we do and connect with us but don't have the capacity to scale up [the current indexing process]," Jungblut said. "They often would like their own staff to be trained, to be part of the process, get insight into their collection and help curate their collection. And that makes great sense."
A few ideas to address these needs stood out from the discussions.
First, the group was in favor of exploring an online-only training course for new indexers. This way indexers could learn how to do their job without needing to travel to Los Angeles for a month, and larger numbers of indexers and staff at partner organizations could be trained , reducing overall training costs, and provide efficiencies.
The indexers were also in favor of connecting indexers with local mentors, or more experienced indexers who are also experts in particular subject areas, who could provide continuous help and guidance. An online forum for indexers would also allow them to help each other, building a network of peer support.
The goal would be to develop an online training and support system that provides a more efficient training program, while building a global network of trained indexers, with access to and support from local mentors or expert indexers, and thus maintaining the quality of indexing that USC Shoah Foundation is committed to providing for users and partners.
van Noord said following the workshop that the future of indexing is very exciting. She is interested in working with USC Shoah Foundation to build indexer training into the University of Victoria's master's program in Holocaust education.
It was inspiring to her to work with USC Shoah Foundation staff to come up with innovative, forward-thinking ideas about its future work.
"I believe that the Foundation's commitment to the quality and integrity of the archive means that the VHA will continue to refine its indexing methodology over time and continue to improve end-users' abilities to make use of the testimonies as the valuable historical resources that they are," van Noord said. "The Foundation's desire to partner with communities engaging with the aftermath of genocide in the more recent past indicates a broad commitment to providing tools that can help us to understand and address human rights and transitional justice issues around the world today."
The next step is to gather feedback from partner organizations and begin developing and testing the new indexing model to determine its effectiveness.
Like this article? Get our e-newsletter.
Be the first to learn about new articles and personal stories like the one you've just read.