Central European Educators Attend Master Teacher Workshop at USC Shoah Foundation
Wed, 08/23/2017 - 5:00pm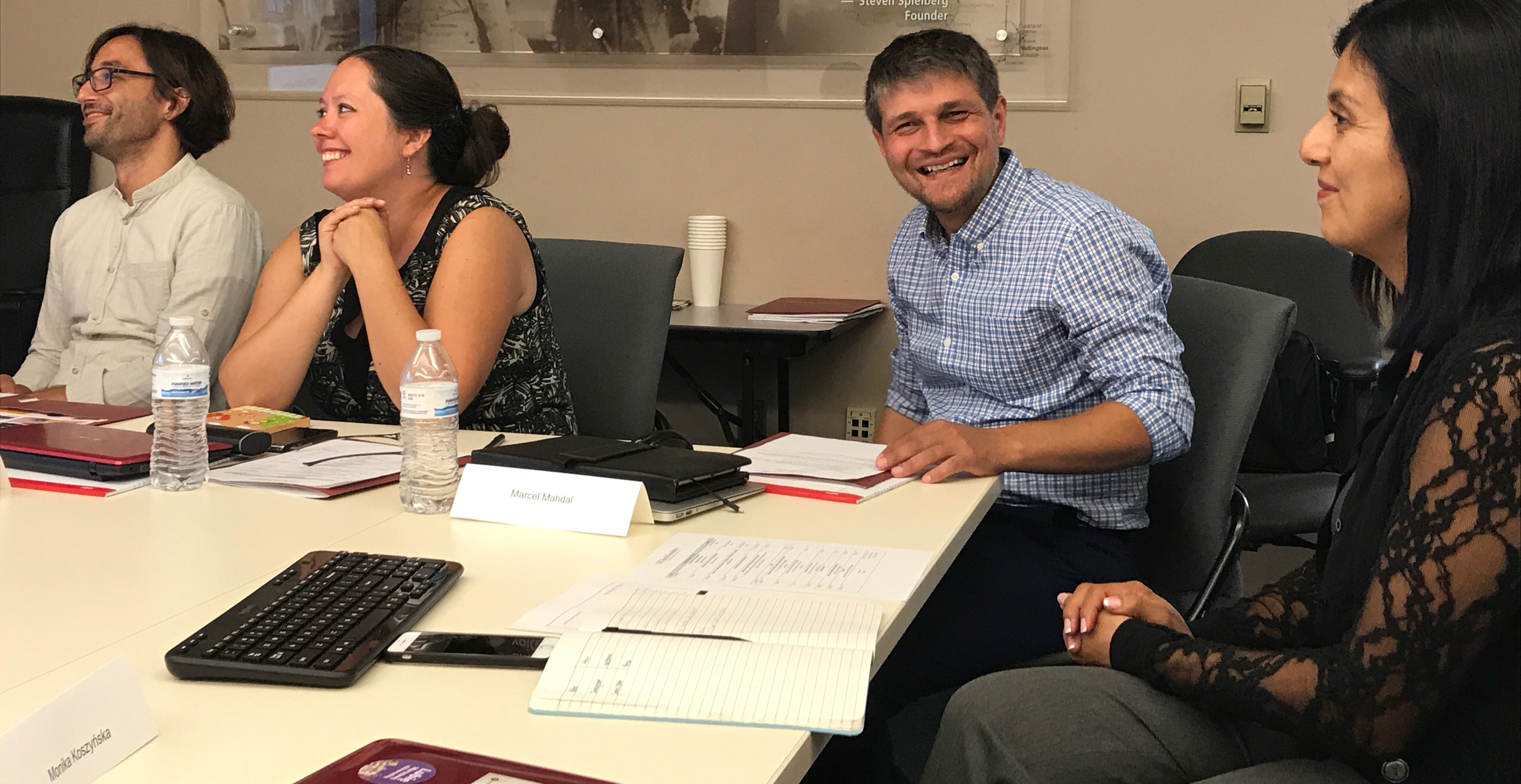 Three graduates of USC Shoah Foundation's Master Teacher program in Central Europe traveled to Los Angeles this week for additional training to take their use of IWitness and testimony to the next level.
Adam Musial (Poland), Marcel Mahdal (Czech Republic) and Monika Mezei (Hungary) were all chosen by USC Shoah Foundation's regional consultants in their respective countries to participate in the two-day training. In addition to graduating from the Master Teacher program, each has demonstrated exceptional passion and dedication for USC Shoah Foundation's mission by collaborating with the regional consultants to host additional teacher trainings, develop IWalks, pilot IWitness activities in their classrooms and more.
"We have known them for many years, cooperating on different projects at the national and international level," said Monika Koszynska, USC Shoah Foundation's Polish regional consultant. "We know they are brilliant and we want to develop their knowledge and competencies. This is the best way to have someone who can cooperate with us in the most fruitful way and have achievements."
In the Master Teacher program, Musial, Mahdal and Mezei already learned the basics of the Visual History Archive and IWitness, methodologies for teaching with testimony, and they developed their own lessons using testimony.
Their training at the USC Shoah Foundation office in Los Angeles August 21-22 – hosted by education department staff – included a deeper dive into the Institute's educational work around the world and tutorials on the more advanced features of IWitness, like editing videos and constructing activities.
Musial said that although he has used IWitness before, this was his first time learning how to construct his own activities. He's looking forward to finishing building an activity that he can pilot in his own classroom with his students.
Mahdal also intends to organize teacher trainings in his city of Ostrava. He said that the training has introduced him to all the new features of IWitness and he's impressed by how much more "powerful" of a tool it has become over the years.
Mezei said she would take home with her a sense of camaraderie with the rest of the Institute staff, many of whom she had never met in person before, and a better understanding of how her work fits in with the Institute's mission.
She also noted that collaborating with Mahdal and Musial has inspired her to work more with her colleagues across the border who face many of the same challenges teaching about the Holocaust, tolerance and countering hatred that she does.
"We are coming from three different countries, and politically there are many conflicts, but if every person from Czech Republic, Hungary and Poland could be together [like this], they would understand how similar our situation is despite our differences," Mezei said.
Like this article? Get our e-newsletter.
Be the first to learn about new articles and personal stories like the one you've just read.