"Research Week" Scholars Launch Project to Study Testimonies of Holocaust Survivors in Latin America
Fri, 08/25/2017 - 5:00pm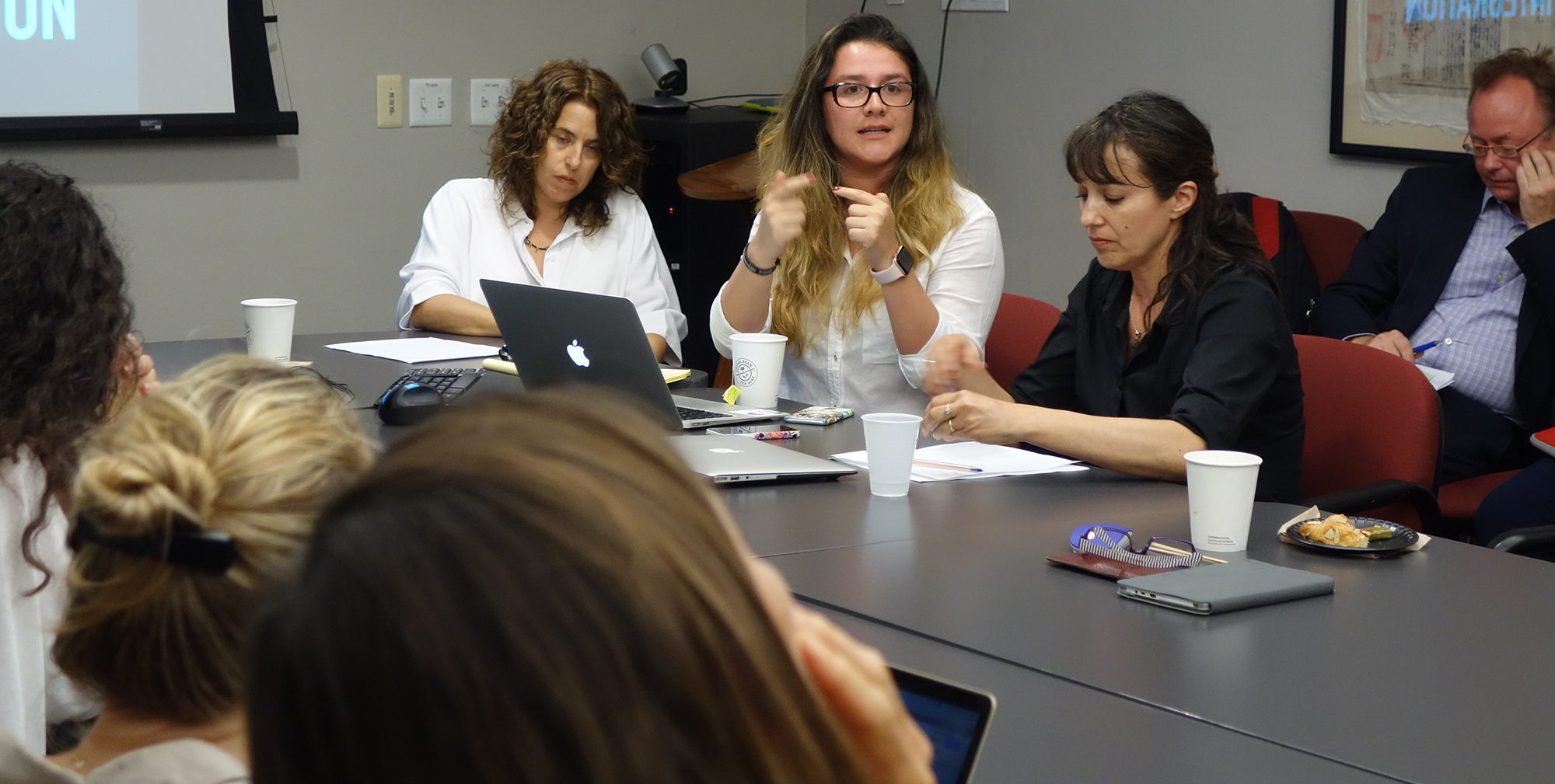 The 2017-2018 Interdisciplinary Research Week at USC Shoah Foundation Center for Advanced Genocide Research has come to a close, but for the seven scholars who were awarded this year's fellowship, the work is just beginning.
With some members of the group meeting in person for the first time, their week in residence at USC Shoah Foundation was an opportunity to start planning for a long-term, wide-ranging research project that will use testimony from the Visual History Archive, among other sources, to explore the experiences of Holocaust survivors who immigrated to Latin America after World War II.
Yael Siman (Iberoamericana University), Nancy Nicholls Lopeandía (Pontificia Universidad Católica de Chile), Lorena Avila Jaimes (Centro Internacional de Toledo para la Paz), Susana Sosenski (Universidad Nacional Autónoma de México), Emmanuel Kahan (Universidad Nacional de La Plata), Alejandra Morales Stekel (Jewish Interactive Museum of Chile), and Daniela Gleizer Salzman (Universidad Nacional Autónoma de México) represent a variety of disciplines, from history to political science to memory studies.
The first iteration of the group came together last year at the annual Lessons and Legacies conference and then added more members to round out their expertise and represented countries.
The group spoke about their research project and their time at USC Shoah Foundation at a public talk on Thursday at USC, titled "Holocaust Survivors in Latin America: Memories of Mobility, Migration and Integration."
They will focus their study on Holocaust survivors' experiences in four countries: Argentina, Chile, Colombia and Mexico. Stekel opened by pointing out that these countries were a "fundamental place of refuge" for many survivors after the Holocaust, yet knowledge of their experiences there has remained marginalized.
"Our main intention is to investigate components of individual experiences and narratives of survivors who came to our region," Stekel said. "The Visual History Archive will be a unique source for our research."
Their research is organized into four categories in the "universe of the survivors": mobility, migration, integration and memory.
Mobility encompasses the survivors' forced displacement and post-war trajectories while migration is focused on geographic individual movements from Europe to Latin America, journeys and first encounters.
Integration includes the survivors' acculturation and identities in their new countries, such as how they adapted, their citizenship, cultural hybridity and belonging.
Finally, their study of memory will look at how survivors tell their stories about the past in their testimonies and the meanings they render to their experiences.
An example of a specific topic they have already begun looking at in the Visual History Archive is survivors' sense of gratitude for their adopted countries. Kahan and Gleizer noted that while Mexico was openly antisemitic and accepted a relatively small number of Jewish refugees, the survivors who immigrated there express great affection and gratitude for the country in their testimonies. In contrast, survivors who went to Argentina are less enthusiastic even though that country welcomed the largest number of refugees.
"It allows us to see how the national context influences their narrative," Gleizer said, adding that the group was eager to do more research to figure out why survivors may have had these reactions.
The testimonies themselves will also offer a wealth of material to study how survivors tell their story and what that reveals about their experience and how they felt about their new country. They will look at when survivors smile, when they cry, when they are silent, what language they use, and more.
Lopeandia said she is fascinated by one particular aspect of the survivors' storytelling: their use of local slang and phrases they picked up in their new country.
"It's touching for me as a Chilean to hear them speak these words, because it shows that they were part of the society," she said.
Stekel also pointed out that the testimonies do not only offer subjective, emotional evidence – they can also be very useful in corroborating dates, historical facts, relationships to other people, and other data which the group will explore in local archives as well.
They agreed that their time at USC Shoah Foundation this week has been invaluable. The opportunity to collaborate with staff, who are experts in testimony and searching the archive, has helped shape the direction of their research. They've also been able to work together as a group for the first time and plan how to collaborate moving forward.
The group's next steps include organizing their next in-person meeting, presenting at a workshop or symposium in Latin America and leading a panel at Lessons and Legacies 2018. They also intend to seek out local and international project grants to support their work, and further down the road, publish a book on their work with a comparative approach.
But first, they must continue to watch testimonies to hone the research they will pursue. The topic of Holocaust survivors in Latin America is so vast, and the relevant testimonies in the Visual History Archive are so extensive, that the possibilities are virtually endless.
"For now, we have a lot of work to do and a great source to explore," Siman said.
Like this article? Get our e-newsletter.
Be the first to learn about new articles and personal stories like the one you've just read.