Hungarian Office of Educational Rights Displays Traveling Exhibition of Students' Art Inspired By Testimony
Tue, 10/10/2017 - 5:00pm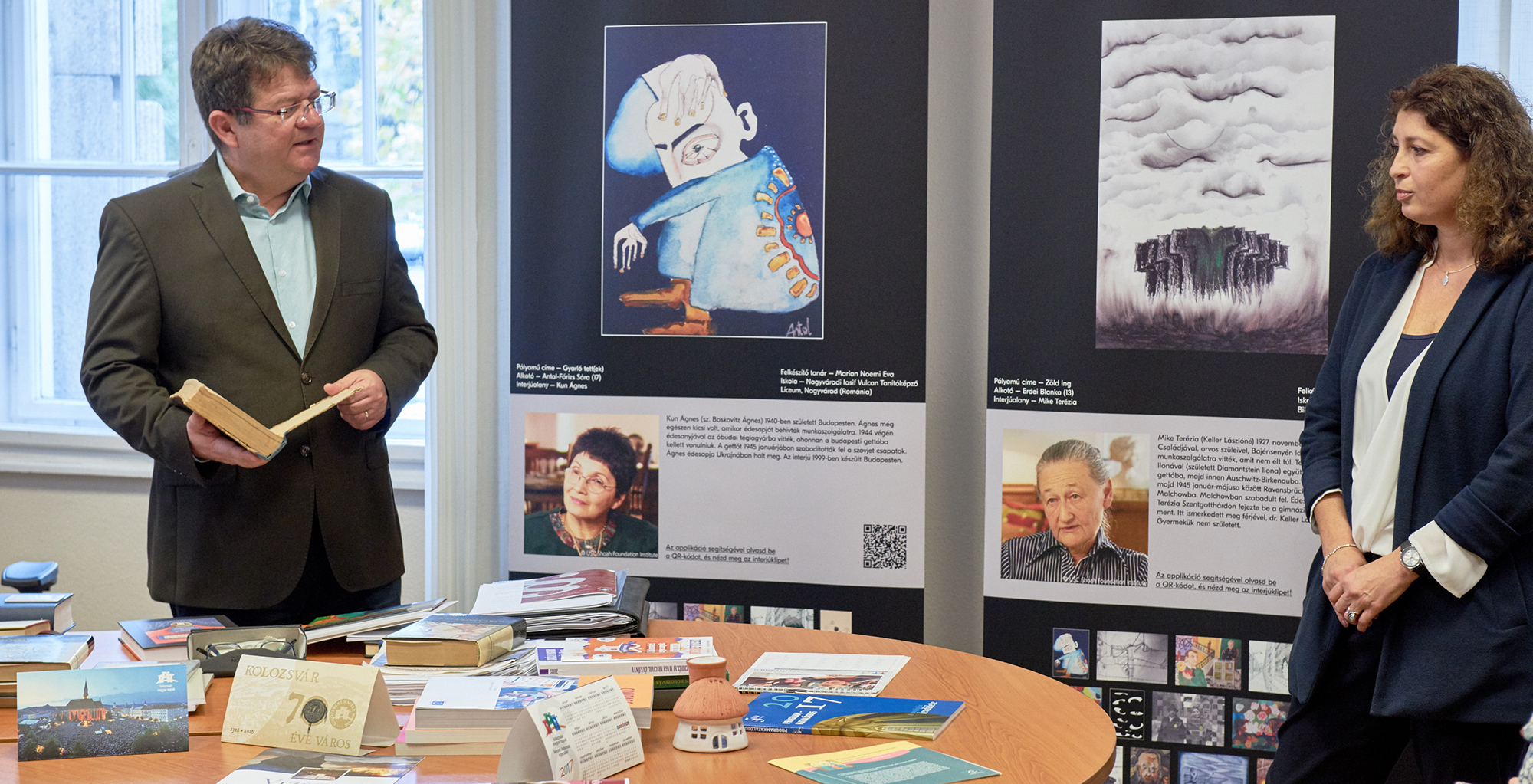 Hungarian Officer for Educational Rights Dr Lajos Aáry-Tamás was so inspired by the artwork created by students for USC Shoah Foundation's annual art project that he became the first to host a traveling exhibition of selected artworks in his own office at the Ministry of Human Capacities.
Each year, dozens of Hungarian students participate in USC Shoah Foundation's Hungarian art project, in which they create original artworks inspired by testimonies from the Visual History Archive. After the submission period, the art is showcased at an event for students and their teachers at the Ludwig Museum of Modern Art in Budapest.
This year, the Ludwig Museum included a new feature in the exhibit. Artworks were printed on large posters with QR codes that, when scanned by a smart phone, play the clip of testimony that inspired the artwork.
Dr. Aáry-Tamás attended the Ludwig Museum event and invited Andrea Szőnyi, the Institute's Head of Programs for International Education and its Hungarian liaison, to bring the posters to his office for a temporary exhibition from September 26 until the end of October.
The Ministry is the first stop in a planned traveling exhibition of the artwork that will continue on to schools throughout the country including Budapest, Kisvárda and Miskolc.
The official opening of the exhibit at the Office for Educational Rights was attended by Dr. Aáry-Tamás and several staff from the Ministry of Human Capacities, including Dr Boglarka Illes, Deputy State Secretary for Youth Policy and Equal Opportunities; Katalin Victor Langerne, Deputy State Secretary for Social Inclusion and Disenfranchised Children; József Lebanov, Head of Department for Public Education Strategy; and Imre Sipos, General Director of the EKE-Research Institute for Education Development.
Two of the student artists, Bence Bánhidi and András Kleininger, also came with their families.
The exhibit at the Office for Educational Rights is a milestone for the Institute and an important acknowledgment by decision makers of its work in Hungary and beyond, Szőnyi said.
Like this article? Get our e-newsletter.
Be the first to learn about new articles and personal stories like the one you've just read.