IWitness Video Challenge winners prompt fellow students to reflect on immigration struggles of their ancestors
Mon, 06/18/2018 - 1:26pm
The timeline and accompanying video by students at Northside College Preparatory High School in Chicago encouraged their classmates to embrace each other's unique differences – as well as appreciate their similarities – specifically as it relates to the challenges of American immigrant communities.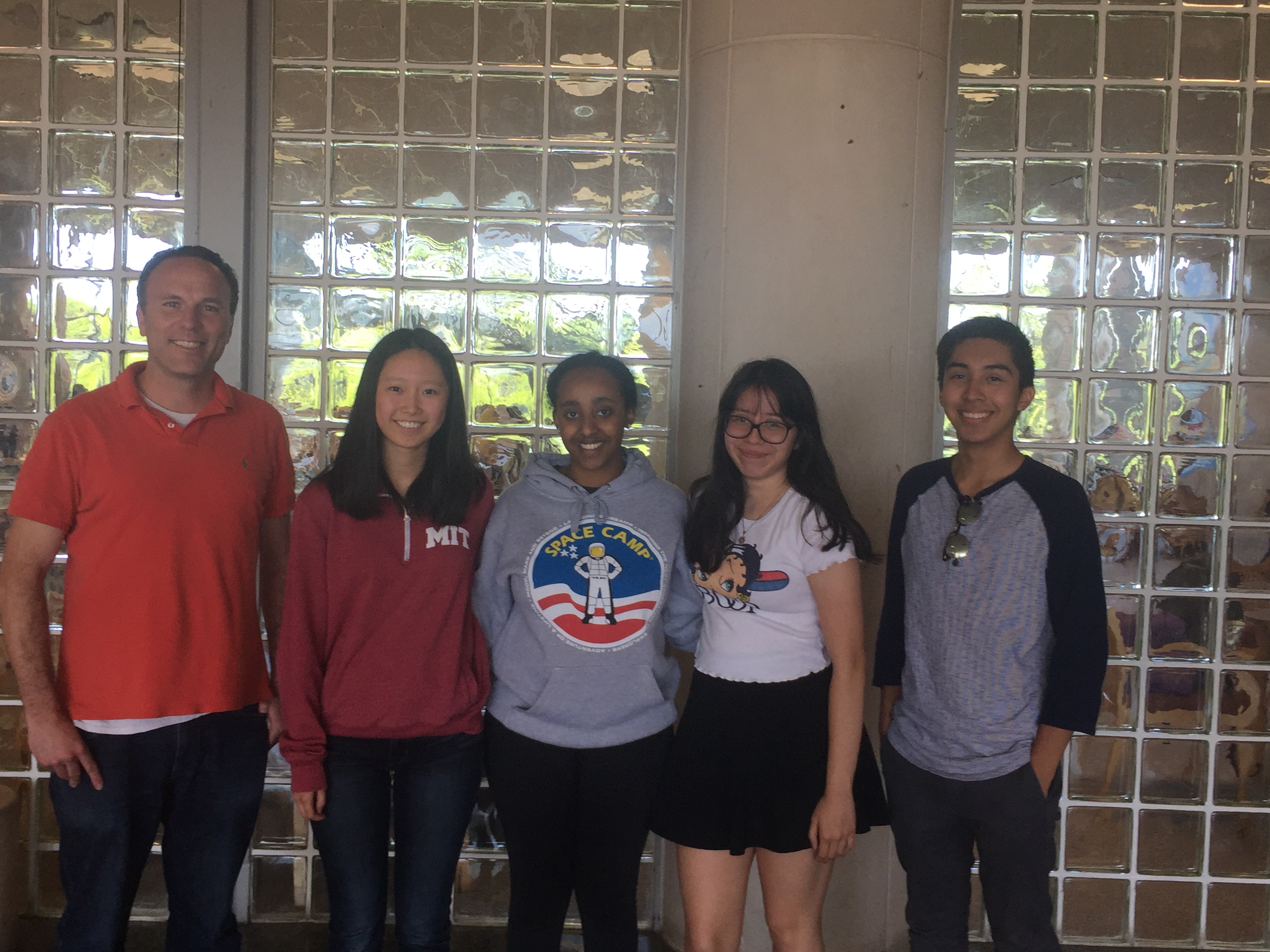 The United States is a large and diverse country, but the family trees of many Americans are rooted in the challenges of being an immigrant.
That is a key takeaway from this year's winning entry for the IWitness Video Challenge, which invites students to be inspired by testimony of survivors of genocides and mass atrocities to make a positive contribution to their communities.
The winners of this year's fifth annual contest co-organized by USC Shoah Foundation and Discovery Education attend Northside College Preparatory High School in Chicago.
In their project, FanXuan Peng, Israel Gomez, Jennifer Tegegne, and Yannie Wang created a timeline at their high school that charts the struggles of various ethnic groups that have immigrated – or been forcibly transported – to the United States. Their timeline and accompanying video encouraged their classmates to embrace each other's unique differences – as well as appreciate their similarities – specifically as it relates to the challenges of American immigrant communities.
For their innovative use of testimony in their project – titled "Where Do Your Roots Lie?" – the four students will split $5,000, which they plan to donate to clubs at their school that promote tolerance, to be put towards educational initiatives and programming related to immigration. The winnings also include a $2,500 grant to their public school to improve the community. Their teacher, Charles Milbert, will receive a $1,000 grant to help cultivate tolerance and empathy among the student body.
"The students from Northside focused on the timely subjects of immigration and discrimination with great sensitivity," said USC Shoah Foundation Director of Education Claudia Ramirez Wiedeman. "I was particularly impressed with how inclusive their work was by demonstrating that any group can be marginalized."
Their timeline specifies the trials of Americans who came from Africa, Ireland, China, Latin America and elsewhere.
After completing their banner-sized, handwritten timeline, the students hung it in the lunchroom. There, many of their classmates added sticky notes listing the origin countries of their ancestors – or themselves. Dozens participated, and a portrait of a worldly school emerged.
"1970s – India," says one note.
"Poland – 1980s/1990s," says another.
"1976 Puerto Rico."
"2006 Thailand."
"Nigeria."
The four students also helped their peers trace their own lineage back to immigrant processing centers such as Ellis Island, thereby enabling them to see the parallels between the hardships of contemporary immigrants and the hardships of their own forebears.
"By setting a table by the busy lunch line, students were able to see the similarities between the seemingly different struggles of various ethnic groups," FanXuan said. "Our peers were informed about groups they did not know about before and have taken the time to think about their parents' and grandparents' experiences coming here."
The group's four-minute IWitness video makes use of several clips of testimony from USC Shoah Foundation's Visual History Archive.
In one of them, Liesl Loeb, a German Jew, recounted the terrifying process of trying to leave the country for the United States in the late 1930s, when the U.S. quota for accepting Germans was capped at about 25,000.
"There was such an onslaught for requests that the consulates issued numbers – first come, first serve numbers – like in the delicatessen store," she said.
While Loeb's parents got lucky with a fairly low number – in the 14 thousands – her aunt was assigned a number in the 70 thousands.
"That was like a condemnation to death," she said.
Loeb immigrated to Philadelphia in 1940. Her aunt was transported to a Jewish ghetto and never heard from again.
Such stories are a reminder to students of the desperation that has pushed many people to seek refuge in the United States over the centuries.
"We believe that our peers learned about personal struggles from what we shared about the testimonies, as well as a larger picture of systemic discrimination from the similar conditions under which different groups came to America," FanXuan said.
A $1,000 scholarship went to second-place winners Anthony McArdle, Kristian Morris, Shawnee Cranfill and Trenton Grace of Northern High School in Dillburg, Penn. Their "Northern High School Pen Pal Project" aided students in leveraging the power of the pen to celebrate each other's similarities instead of one another's differences.
A $500 scholarship also went to Bernadette Carney, Emma Foursha, Kiera Songhurst and Rebecca Bornstein from Our Lady of Good Counsel School in Moorestown, N.J. for their project "Acceptance," which encouraged students to anonymously reveal their struggles and work together to publicly accept and celebrate their differences.
The $10,000 in prizes were awarded courtesy of Ford Motor Co., which sponsors the event as part of its commitment to innovative educational outreach. The contest was open to middle and high school students across the United States and in Canada, with the exception of Quebec.