Women at Nuremberg: Vivien Spitz
Tue, 06/26/2018 - 4:35pm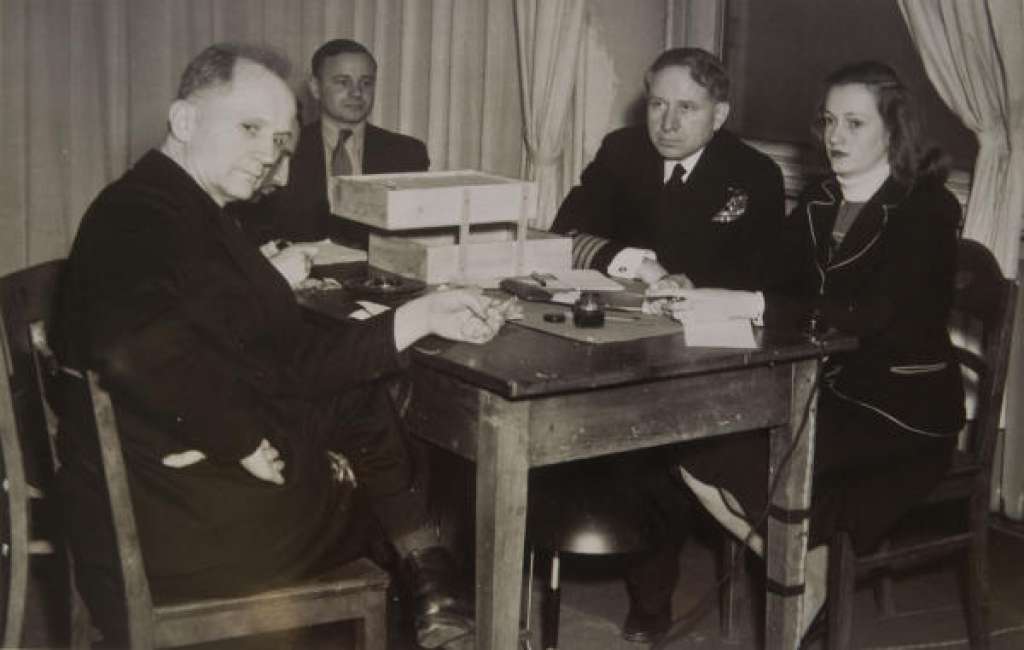 Vivien Spitz grew up in suburban Chicago, hungry for adventure but hampered by a troubled household. Her ticket to traveling to Germany for the Nuremberg Trials would be her ability to type extremely fast.
After high school, Spitz – born Vivien Putty in 1924 – enrolled at a secretarial school, where she took up typing. But when her father, an abusive alcoholic, committed suicide in his jail cell, Spitz had to take a job as a hospital switchboard operator to help her mother make ends meet.
A teacher at the school who knew about her family troubles took on Spitz as a special project. He tutored the 17-year-old during her daily downtime between the end of the school day and the beginning of her night shift at the hospital. Her word-per-minute ratio soared to 140.
A couple of years later, in 1945, Spitz was working as a court reporter in Detroit when the U.S. government sent a letter to her office seeking skilled court reporters. She wasted no time in applying, and landed the job.
At age 21, Spitz flew to Nuremberg, where she and a select group of other court reporters would type verbatim the proceedings whose transcripts would prove one of history's most vital documents.
She remembers arriving to a city in ruins.
"All the time that I was in Nuremberg, there were bathtubs hanging from the walls of the bombed-out city," she said in her 1995 testimony with USC Shoah Foundation. "The stench of death was everywhere."
Upon landing, Spitz began work on the trial for 20 Nazi doctors and three medical assistants accused of performing cruel experiments on inmates at concentration camps.
One of six court reporters on the team that transcribed the trial, she was aghast at the scientists' willingness to conduct such vile and deadly experiments.
They included altitude tests in which Jewish people – deemed criminals for infractions such as having married members of the Aryan race – were placed in airtight chambers whose air pressure could be altered to simulate murderously high altitudes. They also included freezing tests in which inmates were stripped naked and forced to endure subfreezing temperatures for up to 14 hours, often at the expense of their lives. 
"The whole environment seemed to be filled with some kind of horror," Spitz remembered of her first days transcribing the trial at the Palace of Justice. "I just had the feeling that I never saw such evil faces in my life, and eyes – when you look at someone's eyes, there was a feeling of their resentment at even being there. It was just pervasive in that courtroom."
The 20 Nazi doctors and three medical assistants – 22 men and one woman – were charged with various crimes against humanity, calculated genocide and the performing of 12 major experiments on the concentration camp inmates without their consent. Of the 23 tried, seven were sentenced to death, five received life sentences, four received lesser prison sentences and seven were released.
After each day, she and the other trial employees returned to their hotel. Disturbed by the horrific stories they'd heard, nobody wanted to be alone at night, so they spent many late hours together in the lobby. They would talk about the trials occasionally, but drift into other conversation too, huddled around a space heater in the otherwise unheated Grand Hotel.
"We talked an awful lot about our lives in the countries that we came from," Spitz said. "Things that happened, what we were going to do when we returned, plans for the future."
Just being in Nuremberg was dangerous for any employee of the Allied forces. Rogue Nazi dissidents still roamed the streets and underground catacombs, eager to stage attacks on the hotel occupants. One zealot threw a bomb through a restaurant window of the Grand Hotel. Spitz and a friend had been preparing to go to dinner when they heard and felt a thunderous vibration several floors down.
"No one was killed, but there were injuries from flying glass and debris," she said in her testimony. "This was the hazard that we knew we had to live with."
It was during the trials that Spitz met her future husband, military police officer Ellis Spitz, with whom she would later leave Nuremberg, resettle in numerous cities across the United States – Boston, Denver, Washington, D.C. – and have two sons. After the war, she found work as a court reporter in various chambers, and eventually became the first woman ever to work as an Official Reporter of Debates in the United States Senate.
Spitz also became a tireless advocate of Holocaust education, speaking to tens of thousands of students across the country.
In 2005, she published a summary of her experiences: "Doctors from Hell, The Horrific Account of Nazi Experiments on Humans."
She died in 2014 at age 89. 
In her testimony, Spitz recounted a scene that made an indelible impression, and it wasn't in the courtroom.
In late May of 1948, she boarded the SS United States for the journey back home. The ship was filled with Jewish refugees from Czechoslovakia.
 "When we came into New York Harbor, all of the Jews were on deck," Spitz said slowly, through tears. "At the sight of the Statue of Liberty, they all fell on their knees, sobbing. And I was right with them."
Like this article? Get our e-newsletter.
Be the first to learn about new articles and personal stories like the one you've just read.