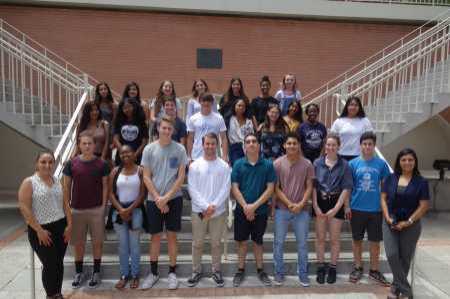 When Awnah Dodd first arrived from Michigan, she was unsure that she was in the right place. But after spending five days as part of USC Shoah Foundation's first summer William P. Lauder Internship Program, she quickly realized she fit right in.
"At the beginning I felt kinda left out," said the 16-year-old Dodd as she headed to the airport Friday afternoon for her trip back home. "But at the end, I felt like someone. I felt like I was doing something right and this was a successful thing for me."
Dodd was among two-dozen young people who came to USC from across the country to participate in the intensive program that focused on the causes and impacts of injustice and the ways an individual can respond.
The week involved delving deeply into the Institute's IWitness educational program, watching testimonies from the survivors and witnesses to the Holocaust and other genocides, visiting the Japanese American National Museum and taking an IWalk tour of Boyle Heights, a neighborhood that has long been a gateway for immigrant communities. IWalk is an interactive educational program that connects physical locations with memories from survivor testimonies.
The students also heard from Stephen Smith, the Finci-Viterbi Endowed Executive Director at USC Shoah Foundation. Smith encouraged them to stand up for what's right, even if they face an uphill battle.
By the end of the week, the students took turns presenting a set of problems in the world – mental illness, hunger, school violence, and homelessness – and offered ways to fix them. Solutions included hiring security guards to quell bullying at school to sharing stories about mental illness to reduce the stigma attached to it.
Sedda Antemedian, the project's content lead, said that by the end of the week, she saw changes in the students.
"I saw more depth in their ability to understand the importance of stepping up to make change," she said.
And she said they thrived in the condensed timeframe.
"They were able to study the consequences of hate without being distracted," said Antekelian, the Institute's Armenian education and outreach specialist. "Without their ordinary lives coming into it, they could focus on why it's important to be an upstander for change in a civil society."
 One student, a girl of Armenian descent, hoped to ease longstanding tensions with Turks.
"It's time to reunite," said 11th grader Kiana Aslanian from Canoga Park.
Chantel Mitchell, a 14-year-old from New Jersey, said that while she had heard of the Holocaust before, the internship taught her about the Armenian Genocide and other atrocities she did not know about. And she made a set of new friends she hopes to keep in touch with.
"I liked the experience of learning about events you may never had heard of," she said. "And I liked that we all connected and we have a bond."
In a post on social media, one student called the experience life changing.
"My experience as an IWitness Junior Intern has made me reevaluate who I am as a person and who I want to be," she wrote. "Learing about genocide and history was a given when I applied. But I never expected to leave USC Shoah Foundation with a different approach to the world."