Hungarian professor to use Visual History Archive to counter rampant xenophobia
Wed, 10/03/2018 - 9:20am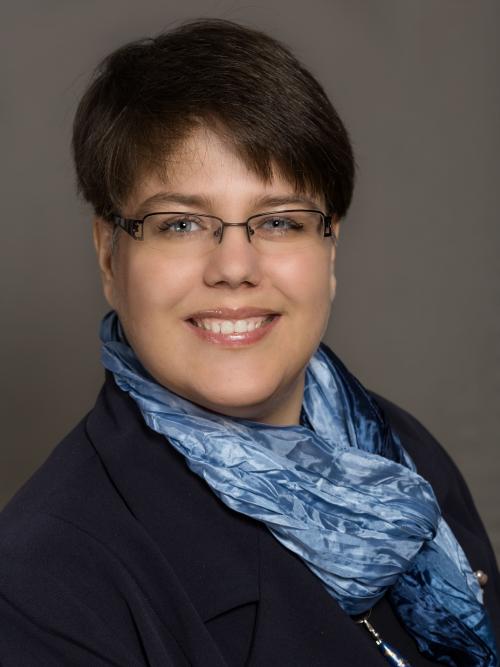 Hungarian professor Ildikó Barna has a difficult job: teaching tolerance in a country where xenophobic policies are a reflection of popular opinion.
Now, the associate professor of sociology Eötvös Loránd University in Budapest is using USC Shoah Foundation's Visual History Archive as a complementary tool for creating a suite of university courses that highlight the dangers of prejudice and hate.
"We are living in a world which is unfortunately full of hate," Barna said during a recent talk with Institute staff. "All the things around us – I don't know where it will lead, but it resembles dark things."
Barna was the 2018-19 International Teaching Fellow at USC Shoah Foundation's Center for Advanced Genocide Research. The fellowship brought her to the Institute in Los Angeles for a week in August to design ways to integrate testimonies of Holocaust survivors into her classes.
 "I would really would like to deal with how hate speech – which is so immense nowadays – can escalate into acts of violence," she said.
During her Aug. 16 talk at the Institute, Barna addressed the nationalistic fervor and xenophobia that swept populist Hungarian Prime Minister Viktor Orbán into a third term in April.
The situation, she said, is "not black or white."
"It's not a dictatorship in the old sense," she said. "There's free elections. There are some newspapers which are for the opposition and so on. But it's still not a democracy. This is, what is called in scholarly literature, a hybrid regime or electoral authoritarianism."
Although the current situation in Hungary is more complex than many outsiders understand, it's a tense situation, she said, and a good time for students to pay more attention to where the slippery slope of hatred can lead – and where it has indeed taken their own country.
The Archive, Barna said, offers a way to help students connect the past to the present, and the past to their own localities. But stories of survivors also highlight lessons that are more universal. You don't have to be a hero to be an upstander, for instance.
"It can even be just a smile," she said. "Or giving comfort to someone who is persecuted. It's not just about risking your life."
Barna plans to use the Archive for several courses: on the history of the Holocaust in Hungary; on past and present antisemitism; on genocide; and on hate crimes and hate speech.
On the matter of Hungary's current political climate, she noted that despite restrictive measures such as the physical closure of Hungary's southern border – and despite the virtual absence of immigrants in the country -- the fear of immigrants in Hungary has been rampant.
She cited a recent survey in which 94 percent of the Hungarian population said they would allow only a few or no people from poor non-European countries into Hungary. More than 60 percent said they would admit zero.
Those figures were high – but significantly less so – a few years ago. She attributes the difference to the spread of propaganda.
However, Hungarian universities have begun to widely embrace the Visual History Archive. In recent weeks, more than 40 Hungarian universities, museums and libraries subscribed to the Archive. The en masse sign-up contributed to the largest-ever quarterly jump in the number of access sites to the Archive.
Barna said some of her students buy into the xenophobic ideas that are currently in vogue.
"The most important thing is to make them talk about their concerns, thoughts, or even prejudices," she said. "This gives the educator the opportunity to do something about it."
Once, in a class for future police officers about hate crimes, some of the students began to "test" her by bringing up stereotypes about the Roma, often referred to as gypsies.
"I was completely sweaty," she said. "It was maybe the hardest experience in my whole life."
The stakes felt high: In Hungary, if the police don't make a notation about a possible hate crime in an initial report, the assailant will never be charged accordingly.  It was a nerve-wracking experience, but in the end, some of the students seemed to come around. Two of them even wrote their theses on hate crimes. It felt like a door had opened.
Barna said she doesn't expect her classes by themselves to change people.
"I just want to make them think," she said. "And if I succeed in making them think, then can come something more."
Like this article? Get our e-newsletter.
Be the first to learn about new articles and personal stories like the one you've just read.