USC Shoah Foundation expands its collection of Guatemalan Genocide testimonies
Fri, 08/09/2019 - 8:58am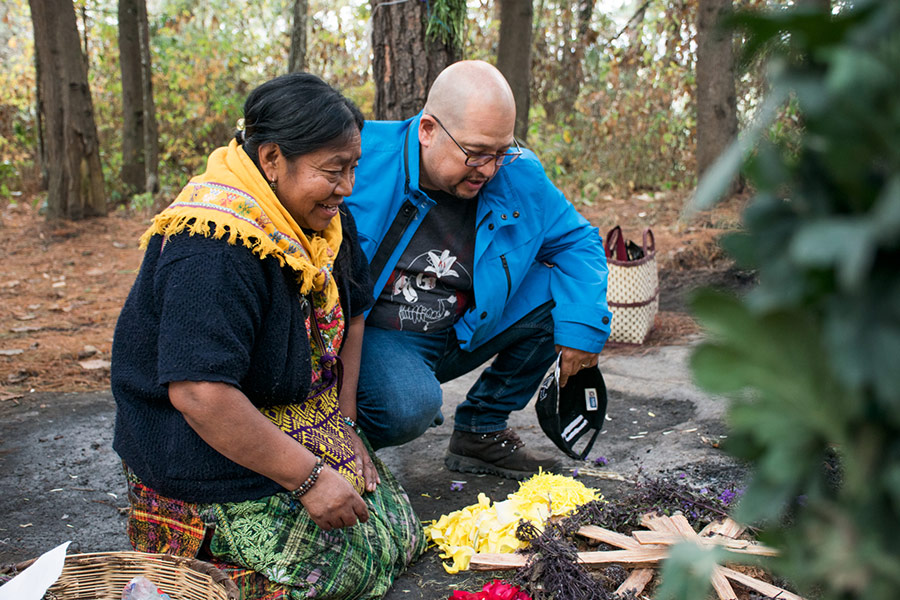 Their loved ones – including women and children – were slaughtered by the military and tossed into mass graves.
For more than 30 years, survivors of the Guatemalan Genocide against the indigenous population assumed nobody cared about their stories.
After all, nobody had ever bothered to ask.
That changed in 2015, when the La Fundación de Antropología Forense de Guatemala (FAFG) – a Guatemalan forensics organization – began traversing through the mountainous countryside to video record their testimonies. Those life histories are being preserved and indexed for USC Shoah Foundation's Visual History Archive.
On Friday, Fredy Peccerelli, the director of FAFG, came to USC Shoah Foundation's headquarters in Los Angeles to deliver the original files of more than 160 video testimonies of survivors. The delivery brings to nearly 600 the total number of testimonies FAFG has collected. So far, about 30 of the testimonies have been indexed and stored in USC Shoah Foundation's Visual History Archive.
"These are very empowering interviews," said Peccerelli during a presentation for Institute staff on Friday. "No one has taken the time to ask them about themselves. And I think that's the genius part of this process, that people can send messages of hope and can say, 'This happened to me — I lived through it. I want the world to know about it.'"
The Guatemalan genocide happened during two particularly brutal years of the 36-year civil war in Guatemala that ended in 1996. Under the pretext of eliminating a communist threat, the country's military targeted its indigenous Mayan population between 1981 and 1983. The genocidal campaign was marked by forced disappearances, torched villages, massacres and rape. In all, about 200,000 people died in the civil war.
FAFG was founded in 1997 to carry out forensic examinations into the killings. The nonprofit organization has over 2,000 cases under investigation and works with families and communities to find and unearth mass graves, and to match DNA samples of human remains to surviving family members. Its work has been used to prosecute war criminals.
In 2015, FAFG expanded its mission to start collecting testimonies.
"It fits in perfectly with what we do," said Peccerelli, a forensic anthropologist and one of the founding members of FAFG.
The American government, which had allied itself with the Guatemalan military in the 1980s, is now funding a large share of FAFG's work: the organization gets the bulk of its budget from the U.S. State Department and the Swedish government.
Yet Peccerelli warned that FAFG's tight finances could jeopardize its ability to collect further testimony.
 "We haven't been able to find a way to get to the people who care," he said, referring to private donors.
In addition to indexing and archiving the testimonies, USC Shoah Foundation is continuing to use the interviews to produce learning activities about the Guatemala Genocide in IWitness, an online, no-cost resource with a wealth of classroom-ready exercises.
To date there are five activities – such as "Children and their Rights During the Armed Conflict" – that are being used in middle and high schools in Guatemala.
Peccerelli played clips of some of the testimonies during his Friday presentation.
One man lost his composure while remembering how the perpetrators had assaulted his mother.
"I cannot stand it," he said.
Another woman broke down when describing the moment she found her murdered young son.
"Oh, Chepe, what happened? What happened to you?" she remembers saying, when she discovered his body.
Like this article? Get our e-newsletter.
Be the first to learn about new articles and personal stories like the one you've just read.