In memory of Branko Lustig, producer of 'Schindler's List' and a founder of USC Shoah Foundation
Thu, 11/14/2019 - 10:22am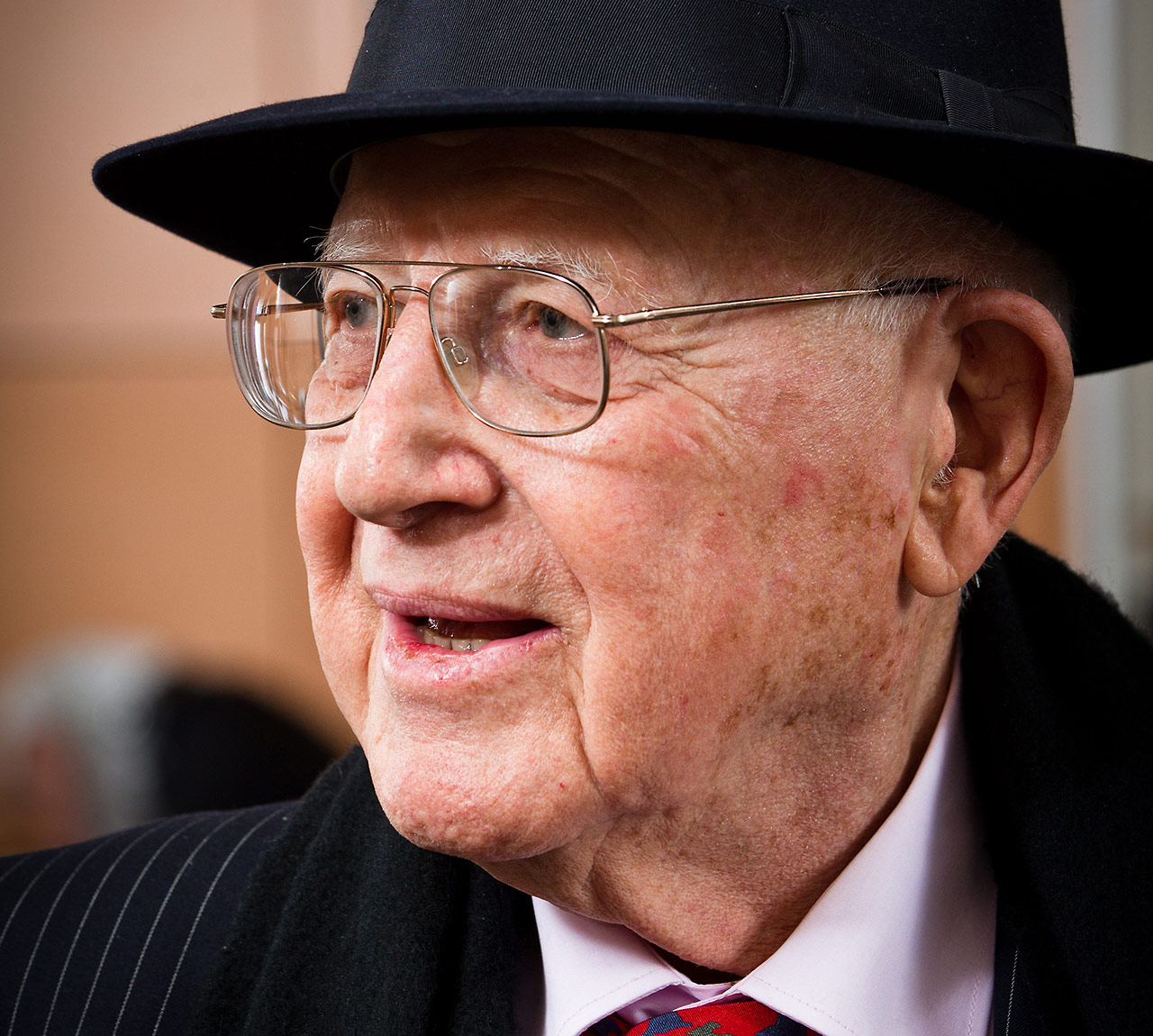 Today we mourn the loss of one of our closest friends, Branko Lustig, a Holocaust survivor and two-time Academy Award winner who produced Schindler's List and played an indispensable role in the founding of USC Shoah Foundation. He was 87.
Shortly after the film's 1993 release, Lustig -- who witnessed horrific atrocities at Auschwitz, Bergen-Belsen and other concentration and labor camps -- led the drive to implement Steven Spielberg's vision of collecting 50,000 Holocaust testimonies for what was then called Survivors of the Shoah Visual History Foundation.
"Branko was an essential guide throughout the production of Schindler's List and the subsequent establishment of Survivors of the Shoah Visual History Foundation," said Stephen Smith, USC Shoah Foundation's Finci-Viterbi Executive Director. "He helped set the tone for the organization so his fellow survivors – witnesses from around the world – would feel comfortable to come forward to share their stories."
June Beallor, a founding executive director of USC Shoah Foundation, said Lustig was more than a colleague -- he was like family.
"There are so many meaningful moments we all had with Branko over the years," she said. "He was a one-of-a-kind, cherished member of the Shoah Foundation family whose legacy will live on for generations to come."
Early on, Lustig committed to give his own testimony, but only after the Shoah Foundation reached its initial goal.
On Jan. 31, 1999, he sat down for an interview in his home in Los Angeles, marking the official achievement of the milestone: His testimony was the 50,000th to be recorded.
"I like my work and I hope I can make more movies about the Holocaust," Lustig said in his interview, which was conducted by fellow Schindler's List co-producer Jerry Molen, also a founding adviser to the Shoah Foundation. "People are forgetting. People cannot believe that this happened. And I cannot believe myself, sometimes. ... It's like a bad dream. It's like something what happened in the Dante's Inferno. You cannot -- you just cannot believe that all this, what I just said, it's true. And that people can do this to other people."
Lustig – who grew up in a Croatian-Jewish family – enjoyed tremendous and at times uncanny success in the film industry, with even some of his earliest projects as a junior producer garnering big accolades.
In the 1970s, while still in Europe, he worked as an assistant director on Fiddler on the Roof and The Tin Drum. Both won Academy Awards. Lustig won his two Oscars as one of three producers for Schindler's List in 1994 – along with Spielberg and Molen – and again as a producer on Gladiator in 2001.
Born on June 10, 1932, in the city of Osijek, Yugoslavia, Lustig was 9 when his family decided to flee to his grandparents' home in Hungary shortly after Nazi troops invaded in 1941.
But things were no better in Cakovez, Hungary. His father, Mirko Lustig, tried to get hired as a waiter at a hotel, but was rejected for being Jewish. The Hungarian police forced him to report to a station once a week as a Jew, and one day he never returned. Lustig later learned Mirko was taken to a labor camp, where he died in 1945.
He and his mother, Vilma Lustig, were put on a train in 1943. They thought they were heading for a labor camp; they wound up at Auschwitz. When they arrived, a line of Jewish prisoners passing them muttered to her: "Say 16."
Lustig was 10 but because he was tall, he could pass for 16. He and his mother were separated. After a few weeks, he was transported to a coal-mining labor camp called Fürstengrube, about 20 miles east of Auschwitz.
One day, he and others were forced to stand in a gallery facing a line of gallows with hanging rope, where they waited for several hours. Six men were eventually ushered to the scene and hanged, with Lustig in the front row.
"They shouted out in Yiddish, 'Don't let us forget -- remember us,'" he said. "'You should live well.' Then they were dead."
Not long after, a German officer caught a starving Lustig trying to steal carrots and cabbage off of a wagon. The officer slapped the boy twice and broke his glasses. "From this time I didn't have glasses anymore" during the Holocaust, he said.
He worked in the coal mines, and held another job leading a water-carrying horse to prisoners to keep them hydrated.  
At some point, he was taken back to Auschwitz, where he spent weeks in a barracks.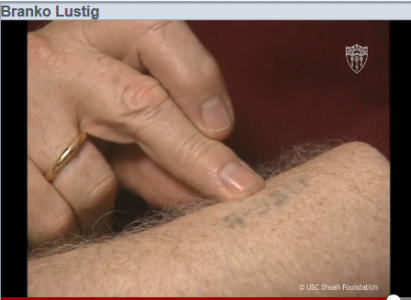 "We heard at night cannons, " he said. "People started saying, 'The Russian are coming.' … Everybody started to be very, very excited."
In January of 1945, he was put on a wagon transport to another camp. It was an awful journey; people stole bread from one another, he said, and had no water. When he arrived at Mittelbau-Dora Nazi concentration camp – an enormous underground munitions camp in Germany – he got out of the vehicle and collapsed. One of his feet was completely blue with frostbite. 
His final transport took him to the Bergen-Belsen camp in Germany.
"The first thing, I'll never forget -- this terrible stink came from the camp," he said. People were "dying like flies, because there was no food."
Lustig said it was at Bergen-Belsen where he could feel his life energy fading.
"I was at the end of my physical and spiritual forces," he said.
He contracted a high fever and eventually began to lose consciousness. He remembers seeing angels in green who played music.
"I later find out, it was Scottish soldiers," he said. "A regiment of Scottish pipes" --  a part of the British forces that liberated Bergen-Belsen.
When he was recovering, Lustig told an officer his story, saying how his entire family had died in the Holocaust: his father, his mother, maternal and paternal grandparents, uncles, aunts and cousins. The officer said it wasn't so: His mother, Vilma Lustig, was not only alive, she was at Bergen-Belsen.
She and Lustig reunited in the camp with officers looking on.
"Everybody was drinking and laughing and singing," Lustig said, his voice catching. He hadn't seen her in two years.
After the war, Lustig tried theater on for size in the Displaced Persons camps, participating in some plays. People praised his performances, and from 1951 to 1955 he studied theater at the University of Zagreb in Croatia.
He met his wife, Mirjana, while working on the set of Fiddler on the Roof in Zagreb. He asked her to marry him after their first date. The entire crew came to the wedding, which was graced with music from the iconic soundtrack.
Lustig and Mirijana had a daughter, Sara, in 1981. At the time of the interview, they'd been married for 29 years.
Beallor said Lustig was a vital part of the organization's formation.
"As a Holocaust survivor of many camps and with the ability to speak numerous languages, his knowledge and personal experience were invaluable," she said.
Karen Kushell, who was a production associate on Schindler's List, remembers Lustig's "warm Croatian charm and humor," which she said "beautifully complemented his hard-core tenacity.
"He was a man you were grateful to have on your side," said Kushell, who, like Lustig, was one of three members of USC Shoah Foundation's founding executive committee.  "It wasn't just his first-hand knowledge that made him an extraordinary producer on Schindler's List. Working with him, it was apparent that his success was not despite his traumatic life experience as a Holocaust survivor, but in many ways because of how he emerged from it. He was a fighter."
Lustig's resilience, Kushell added, made him effective in the most trying of circumstances.
"Branko was a talented producer, a generous mentor, a raconteur, and a real mensch," she said. "He will be deeply missed."
Like this article? Get our e-newsletter.
Be the first to learn about new articles and personal stories like the one you've just read.