Voices from the Archive
Jewish James Bond Aided MI6 and Fellow Prisoners
Mon, 05/10/2021 - 3:14pm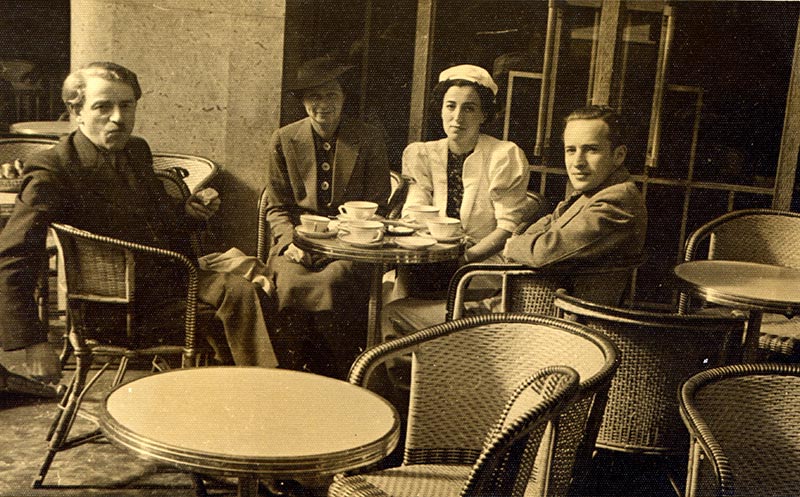 Joseph André Scheinmann and his family were forced to flee the Nazis long before the war started. Joseph's father, Max, an Austrian World War I vet, had been making speeches railing against the Nazi party since the mid-1920s, and in 1933 fled Düsseldorf with his wife Regina, and teenage children Joseph and Rosa, leaving behind a successful chain of shoe stores. In the mining town of Bruay-en-Artois in northern France, the Scheinmanns opened a clothing store.
When the Germans occupied France in June 1940, the mayor of Bruay-en-Artois warned Max and Regina to flee. They sought refuge in Paris, thankful that Rosa had decided to stay in the United States and marry a cousin after a trip there in 1939.
Joseph, who was born in Munich in 1915, recorded his story for USC Shoah Foundation's Visual History Archive in Florida in 1997.
Joseph was drafted into the French Army in 1939, and he was given a new non-German, non-Jewish identity – André Peulevey. André was injured in combat in Belgium and he became a prisoner of war in the French hospital where he was recovering when the Nazis occupied France. He soon managed to escape and find work in Rennes, Brittany, as a French-German interpreter for the French railroad, now under German control.
André worked his way into the center of German transport operations and began funneling information to British intelligence. Within a month, he had organized a network of 300 French resistance agents tracking German movement of goods and people across France and Germany. André's network provided intelligence that enabled the British military to track and disable The Gneisenau, a fierce German battleship that had played a key role in crippling the British navy.
When André's courier to England was arrested, he made a dangerous trip to England, including kayaking across rough waters to rendezvous with a ship anchored in the English Channel, to convey information himself. But when he returned to France in February 1942, he was immediately arrested by the Gestapo.
André was brutally interrogated, court marshalled, and sentenced to 11 months in solitary confinement in Fresnes prison outside Paris. His interrogators never discovered his Jewish identity, and he never exposed any contacts. In solitary and in another cell for months after, he walked 12 to 14 hours a day, and did what he could to increase food intake for himself and others.
After 17 months in Fresnes, in July 1943, he was shipped to the Natzweiler-Struthof concentration camp on an isolated mountaintop near Strasbourg.
There, André was appointed interpreter and soon after the kapo – or overseer – of the French prisoners. For the next 14 months in the camp, he saved many lives by scheming with both prisoners and guards to minimize beatings, punishments, and escape attempts. In the labor crew he managed on a steep mountain road, he made a deal with a guard: The guard could sleep, and a prisoner would awaken him when inspectors were on the way, enabling the undernourished prisoners to rest between inspections.
After the Allies landed in Normandy, the entire camp was put in cattle wagons and sent to Dachau in September 1944. André was liberated by U.S. forces in April 1945.
When he reunited with this aunt and uncle in Paris, he learned that his parents had refused to go into hiding and had been arrested in 1942 and brought to Auschwitz, where they were killed. At his aunt and uncle's home, he met Claire Dyment, a German Jewish linguist who had worked for the British Royal Air Force intercepting and decoding German radio messages. She had once posed as German dispatcher to disrupt Luftwaffe (German air force) operations.
The two married in 1946 and their son, Michel, was born in 1948. They moved to the U.S. in 1952, and ended up in New Bedford, Massachusetts, where André was in the toy business and then worked importing shoes from France.
Claire and André have both been recognized for their bravery, and André helped more than 200 French resistance fighters get recognition and pensions for their work.
Michel didn't know about his parents' wartime experiences until a trip to France when he was 15, and they visited Natzweiler-Strutfhof.
In the years that followed, André opened up about his exploits, and spoke often at schools and organizations until he died in 2001.
In a letter to his grandchildren, André warned his family to stay vigilant against prejudice and hatred:
"You will undoubtedly be convinced that all these tragic events cannot reproduce themselves in your lifetime, as I thought all this could not happen in my world. I want my memories to make you cautious so as not to commit the same errors of judgement I made out of idealism and optimism … and that you will not have to run the same risks I did."
Read about how André's story helped his family reconnect with each other in the age of Zoom.
The Visual History Archive is full of stories of courageous individuals like Andre. Visit vhaonline to start your search and listen to the voices of history.
Like this article? Get our e-newsletter.
Be the first to learn about new articles and personal stories like the one you've just read.