Community Connections
After a School Year of Turmoil, a Summer of Empathy
Fri, 07/16/2021 - 1:53pm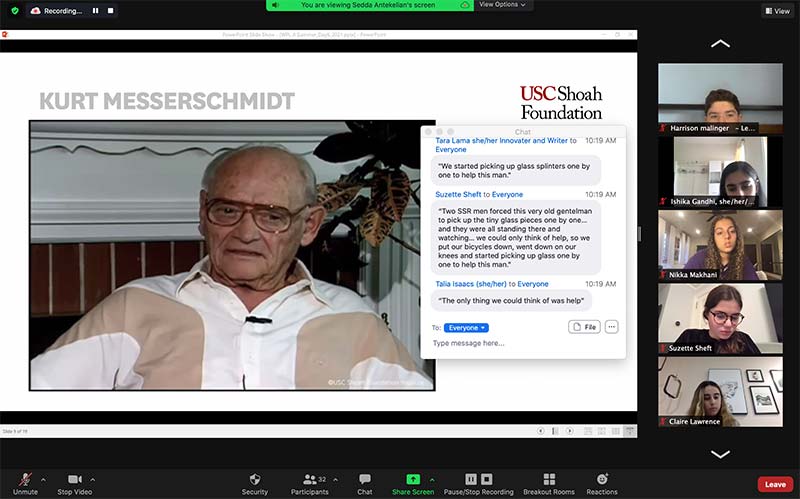 Carson Sizemore is already bracing for the tough conversations she will have in her 10th grade government class at her private high school in Albany, a small city on the banks of the Flint River in southwest Georgia.
"I kind of have conflicting ideas with a lot of people in my family and my school. They're more conservative, and I'm more in the middle somewhere," Carson said. "I know there will be some debates in my government class."
But after participating in a leadership workshop at USC Shoah Foundation this summer, Carson has more confidence about how to handle what she may perceive as racist, unkind, or unjust statements.
"I learned to be respectful of the other person, to not make them feel dumb, or to criticize them, but just to give them a refresher and share some knowledge. You have to think before you say things."
Sizemore is one of 29 grade 8-12 students who participated in the Actions and Values Leadership Workshop this summer, part of the William P. Lauder Junior Internship Program, which also offers a six-month program during the school year. The ten-day virtual workshop at the end of June used testimony to help students build knowledge and critical thinking around lessons learned from the Holocaust and other genocides, as they worked toward developing their own sense of values and voice.
"As a leader, I want to influence people by empowering them, and this program really helped me understand how small actions can build up to create a big effect," said Ishika Gandhi, who is entering the 9th grade in Holliston, Massachusetts. Through listening to survivor testimony and by reading The Children of Willesden Lane, a book about a teenage musician rescued from Vienna in 1939, Ishika understood, for the first time, how antisemitism developed in the 1930s. "Through that timeline I saw the actions that led to the Holocaust, and how the war began. That helped me realize what causes can create these effects, and how I as a leader can make an impact so that history doesn't repeat itself."
The summer curriculum took the students through the themes and history of the Holocaust via The Children of Willesden Lane, which Mona Golabek wrote about her mother, Lisa Jura, who was rescued in the Kindertransport from Austria to London in 1939 and later became a concert pianist. The program, which integrates music throughout, culminated in a live concert with Golabek—a Grammy-nominated classical pianist—who spoke to the students about maintaining their passion and values throughout their leadership journeys.
"Mona's incredible performance and her vivid emotions reeled in her audience and made me realize just how important music was to her and her mother. She took us all on a journey in
which we were able to better imagine the depth of emotion that her mother and the people around her felt," said Sophia Golshani, a 12th grader in Los Angeles, who is a dancer. (Read more about Mona Golabek's on-demand Tiny Screen Concerts and the Willesden Project, a collaboration between USC Shoah Foundation, the Koret Foundation, and Golabek's Hold On to Your Music Foundation.)
From the central timeline developed around The Children of Willesden Lane, the students branched out to explore testimony from the Holocaust and other genocides, including events in Cambodia, Guatemala, Rwanda and Armenia, which they analyzed in writing and in robust group discussions in breakout rooms. One of the central questions addressed was how to most effectively stand up to hate.
For Carson, Ishika, and other students, a powerful message on the centrality of empathy came from Leon Bass, a Black U.S. Army soldier who liberated concentration camps in Europe, with the knowledge that that the values of freedom and liberty he was defending did not apply to him back home.
"Love is when you challenge people and you tell them they are wrong, even when they are your best friends. Tell them 'You're wrong, but I love you.' That's love," Bass said in his 1998 testimony, which is contained in the Visual History Archive and the IWitness educational platform.
In daily discussion, participants were encouraged to reflect on how their own ethnic backgrounds shape their values and perceptions. The group included students who could trace ancestry back many generations in the United States, and students whose families recently immigrated from countries including Russia, Iran, Pakistan, China, and Mexico.
"This program opens eyes in part because you learn about the experiences of so many people from so many places, with different values," said Hadia Ijaz, an 11th grader from West Bloomfield, Michigan, who was motivated to enroll in a program focused on diversity following the George Floyd demonstrations. She participated in a six-month William P. Lauder Junior Internship at USC Shoah Foundation during the academic year and was chosen to be a peer leader during the summer workshop.
Hadia and two other student volunteers backstopped teachers on technological issues, led group activities, and were active contributors and guides in group discussions, which helped students feel more comfortable opening up.
Ella Zarrow, who participated in the academic year internship for three years, said being a leader for the summer program allowed her to appreciate the behind-the-scenes logistics and the curricular intricacies.
"It makes you realize how smart all the participants are. I was so impressed every single time someone presented their ideas," Zarrow, an 11th grader from Los Angeles. "There were so many
different opinions and takeaways, and you could actually see how well the program was working."
Over the last year-and-a-half, 12th grader Alex Fan, a summer peer leader from Bakersfield, a mid-sized city at the southern end of California's Central Valley, participated in programs at The Museum of Tolerance and the Holocaust Museum of Los Angeles, as well as the William P. Lauder Junior Internship Program during the school year.
"If there was no pandemic, I would not have been able to become involved with Holocaust education," said Fan, who created and led testimony-based programs at his school in Bakersfield. "I give a lot of credit to all the teachers and staff involved, because this is a really great opportunity for so many people who don't live in a big city and can't readily find programs like this."
Lesly Culp, Head of Programs in Education at USC Shoah Foundation, said discussions are under way about keeping an online component to expand the geographical diversity and broaden the ripple effect of more people viewing testimonies.
"At the core of everything are the testimonies, and the stories," said Culp. "If students walk away knowing names, it helps them humanize the stories, and that helps them understand the impact of racism and discrimination and where things can end up if individuals don't take a stand against hate."
Learn more about the William P. Lauder Junior Internship Program
Like this article? Get our e-newsletter.
Be the first to learn about new articles and personal stories like the one you've just read.