Armenian-Language Resources Inspire Students, Connect Families
Tue, 11/02/2021 - 5:12pm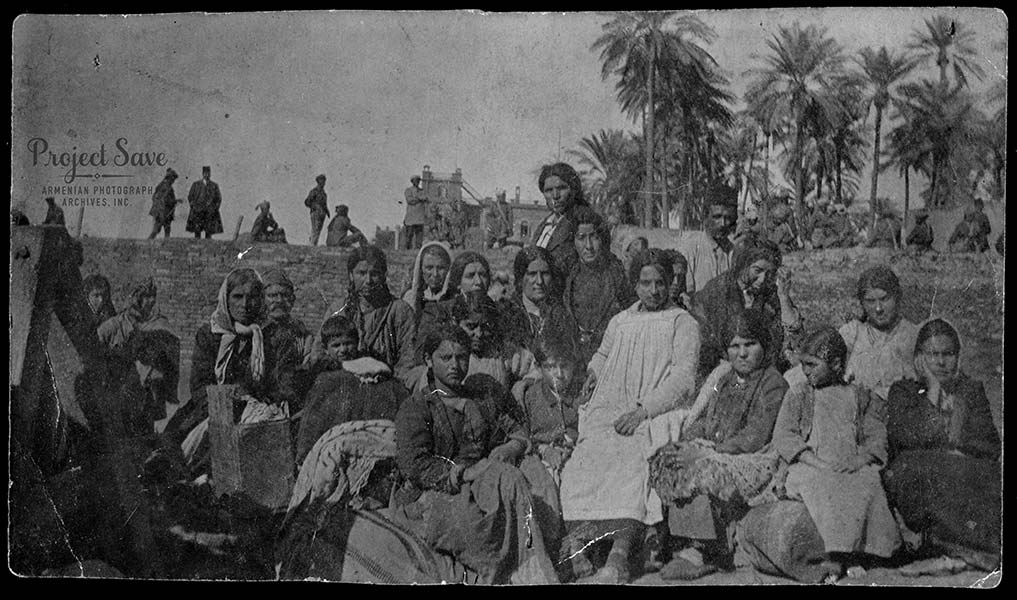 When the Coronavirus pandemic banished students and teachers from classrooms in March 2020, Liza Manoyan, who teaches Armenian language and history to middle schoolers at St. Gregory A. & M. Hovsepian School in Pasadena, California, scrambled to shift to distance learning.
Figuring out the technology was one thing. But she faced another challenge.
"There are not a lot of digital resources for teaching in Armenian," she said.
For several years, Ms. Manoyan has been using lessons from USC Shoah Foundation's IWitness educational platform to teach about the Armenian Genocide, the systematic effort by the Ottomans to deport or kill an estimated 1.5 million Armenians between 1915 and 1923.
In advance of last year's April 24 Armenian Genocide Remembrance Day, Ms. Manoyan decided to translate the IWitness worksheets and handouts she had been using as teaching tools into Western Armenian, the dialect she teaches at St. Gregory.
With the newly translated "Siroun: Finding Courage" IWitness activity, Ms. Manoyan's students were able to view and discuss an animated virtual reality short, along with clips of testimony from two survivors of the Armenian Genocide. They then engaged in activities and discussion—in Western Armenian—about the responsibility and challenges of standing up to persecution and injustice.
"My eighth graders loved it," Ms. Manoyan said. "This is a topic close to their hearts. It opened the door to conversations about a lot of things."
Ms. Manoyan then asked her students to interview their parents and grandparents about acts of courage from their own lives or the lives of their ancestors.
"Some of the students hadn't ever heard about their parents or grandparents doing something courageous, so it was an opportunity for them to find out new things about their own families," she said.
It is significant, Ms. Manoyan said, that the interviews were conducted and presented to the class in Western Armenian, a language UNESCO declared endangered in 2010.
The main dialect spoken among Armenians of the Ottoman Empire, Western Armenian was to become a language mostly of the Armenian Diaspora in the wake of the Genocide, spoken by survivors and their descendants around the world, as well as by the few who remained in Turkey. By contrast, Eastern Armenian is the official language spoken in the Republic of Armenia, which was part of the Soviet Union from 1920 until it declared independence in 1991.
However, over the past several decades—as Armenians migrated from the Republic of Armenia and as survivor communities around the world struggled to stave off assimilation—Eastern Armenian has become the dominant dialect both in Armenia and the Armenian Diaspora.
Which means Armenian schools and cultural institutions like the St. Gregory A. & M. Hovsepian School are working to keep Western Armenian alive.
After the success of her lessons at St. Gregory, Ms. Manoyan shared her new translations with USC Shoah Foundation, which in turn made them available to the 250,000 educators around the world who use the IWitness platform.
Sedda Antekelian, Education and Outreach Specialist at USC Shoah Foundation, said the addition of Western Armenian material to IWitness serves a number of important goals.
"Having educational activities in Western Armenian not only accomplishes our educational goal of using testimony to teach and uplift the stories of Armenians before, during, and after the Genocide, but we become part of the work of preserving the language itself and connecting people back to their roots," Antekelian said.
USC Shoah Foundation's Visual History Archive contains 450 audio and video testimonies and hundreds of photographs and documents connected to the Armenian Genocide that have been preserved and indexed in partnership with The Armenian Film Foundation and the Richard G. Hovannisian Armenian Genocide Oral History Collection. Hundreds more testimonies and photos are in the process of being indexed with support from the Dadourian Foundation and others.
A number of Armenian interviews are featured on IWitness, which provides a wide range of classroom resources that use testimony to develop students' thinking on topics such as understanding racism, the impact of violence on identity, and the legacy of heroic women. Two lessons—"Siroun: Finding Courage" and "Politics and Place"—have been translated into Western Armenian and focus on teaching the Armenian Genocide.
In addition, two activities in Eastern Armenian were recently added to IWitness thanks to a partnership with Teach for Armenia, an organization that aims to expand and improve educational opportunities in the Republic of Armenia. "Anti-Armenian Politics at the End of the 20th Century" analyzes anti-Armenian persecution in Azerbaijan in the late 1980s and "Genocide in the Memory of Refugees" is geared toward students still living with the reality of ethnic violence.
Other initiatives to raise awareness and promote understanding of the Armenian Genocide include a virtual field trip—created by a partnership between USC Shoah Foundation and Discovery Education—to the Armenian Genocide Martyr's Memorial in Montebello, east of Los Angeles, and a soon-to-be-released IWalk, a curated on-location tour with testimony, that will be available to visitors to the memorial.
The Greater Los Angeles area has the largest population of Armenians in the United States.
Norayr Daduryan teaches at Blair High School in Pasadena, the only public high school in the country to have an English and Armenian bi-lingual program that offers language instruction and classes about Armenian culture and history.
Mr. Daduryan, who often translates private letters and documents for the Armenian community and worked on some of the activities in IWitness, plans to use the new Western Armenian activities in his classes.
"I believe students will feel connected, and they will feel curious about their own family stories, and immediately all the yellowed letters and photos that they have in crates in their attic will gain importance," he said. "Maybe they will make a phone call to their grandparents or ask for their great-great-grandparents' testimony. After having seen this, they will give more value to all those documents and photos, and see that they are not junk, or old stuff, but primary sources that are important pieces of history and family treasures."
The fact that a respected institution such as USC Shoah Foundation has committed to preserving testimonies and teaching Armenian children is a source of pride to Mr. Daduryan, who grew up in Istanbul.
"Many people are very pessimistic about the language of Western Armenian, but seeing it on the website of a major American university, my students will see is it not a dead language, and it is a serious topic. It is very exciting and encouraging."
Read more: For Armenian Family, Genocide Testimony Changes Lives, Community
Listen to Curated Testimony: 30 Voices from the Armenian Genocide
Like this article? Get our e-newsletter.
Be the first to learn about new articles and personal stories like the one you've just read.