"Once We Repel the Aggressors, We Will Get Back to Work," USC Shoah Foundation Partner Anna Lenchovska, in Ukraine
Thu, 03/10/2022 - 8:58am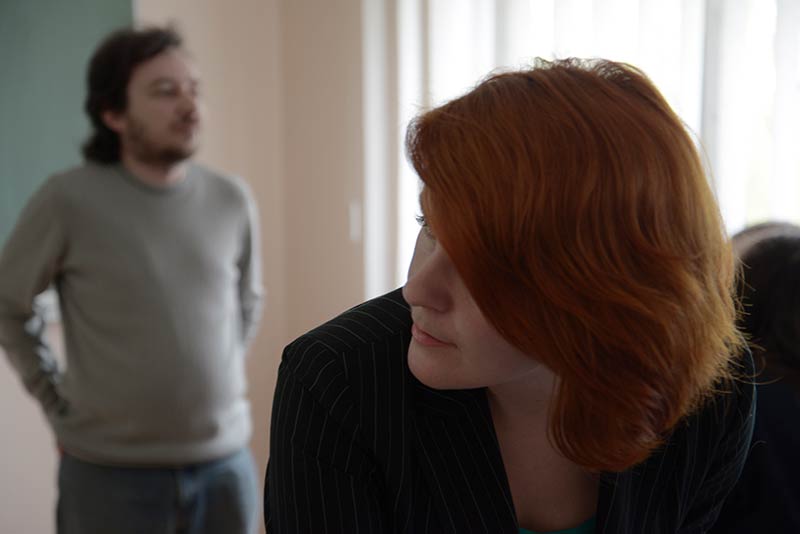 Two weeks into Russia's invasion of Ukraine, USC Shoah Foundation is extremely concerned for its partners, survivors and friends in both countries and strongly condemns the senseless loss of life.
USC Shoah Foundation has strong roots in Ukraine, having conducted 3,432 interviews in the country that form the basis for a collection of testimony-based educational programs that have reached tens of thousands of Ukrainian teachers and students.
In recent years the Institute has worked closely with EdCamp, an educational organization based in Kharkiv, on a series of teacher training programs to increase the use of testimony in Ukrainian schools. These have reached more than 1,000 educators since the beginning of the COVID 19 pandemic and helped more than triple the number of teacher registrations from Ukraine on USC Shoah Foundation's IWitness platform
There are currently 17 Ukrainian-language activities in IWitness, including an IWalk tour in Kyiv that takes students through the memorial site of Babyn Yar—the site of the Nazi execution of more than 34,000 Jews in 1941 that came close to sustaining damage from Russian shells early in the invasion.
USC Shoah Foundation Partner Anna Lenchovska has been at the forefront of the institute's programmatic efforts in Ukraine. As executive director of TolerSpace, a Kyiv-based center established in 2013 to teach children and educators about democracy and citizenship, she has worked with the institute to develop several IWitness activities and organize a series of webinars to teach educators how to use the material in their classrooms.
Last week Lenchovska spoke to USC Annenberg Media about the ongoing conflict. And in a brief follow-up interview, she described a chaotic and precarious situation in the capital as explosions forced Kyiv's citizens into bomb shelters.
Lenchovska said the Russian invasion has understandably disrupted much of USC Shoah Foundation's educational programming.
"All our plans are frozen," she said. "We just hope we will make it through this alive. And once we repel the aggressors, we will get back to work."
Despite the formidable challenges on the ground, USC Shoah Foundation has created and published an IWitness activity in response to a request from educators who asked for help in discussing the conflict with their students.
Dr. Kori Street, Interim Finci-Viterbi Executive Director of USC Shoah Foundation, said the institute remains steadfast in its commitment to continue its work in Ukraine in the future.
"At a time of rising hatred around the world, the violence of war is a call to action. We stand with partners in the region who are doing their best to work with refugees, healing trauma and coping with the layers of catastrophe. As the caretaker of thousands of voices of survivors of mass violence, we can't help but hear echoes of the past in the violence we are witnessing in Ukraine today, and hope that safety and peace can prevail."
---
Additional articles about our work in Ukraine
Inaugural "Teach for Ukraine" Training Program Includes IWitness Workshop
Ukrainian Consultant Represents USC Shoah Foundation at Education Roundtable
Testimonies Train Teachers to Conduct Cultural Sensitivity Workshops in Ukraine
Ukrainian Students Pilot "Arrival at Auschwitz" IWitness Activity
USC Shoah Foundation Hosts Seminars on Teaching about Human Rights in Ukraine Conflict Areas
USC Shoah Foundation Testimonies Help Reform Police in Ukraine
Crimean Teachers Attend Seminar on Oral History and Human Rights
---
Like this article? Get our e-newsletter.
Be the first to learn about new articles and personal stories like the one you've just read.