Honoring Sisterhood with Zikaron BaSalon
Thu, 01/19/2023 - 5:24pm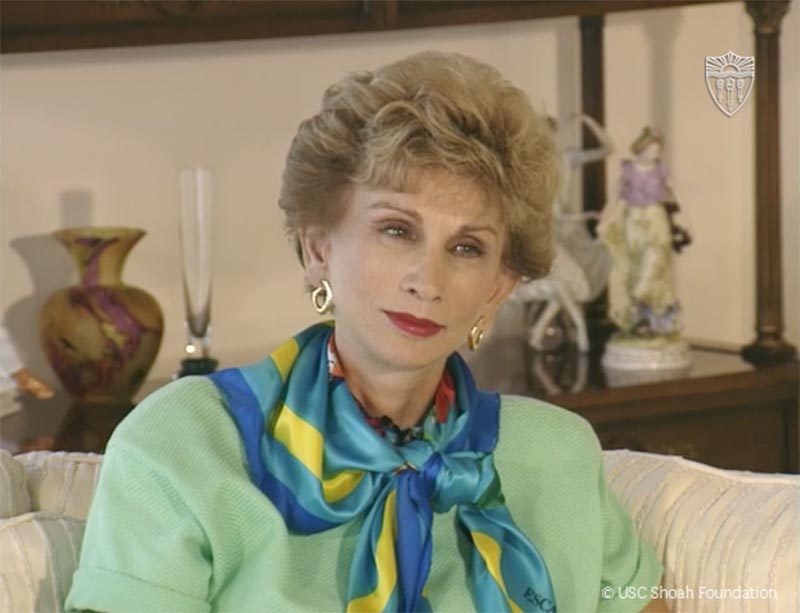 Equipped with blankets and snacks and dressed in pajamas, 24 young women of USC's Gamma Phi Beta settled into the living room of their sorority house last fall to watch a video of Edith Eger telling her story of survival and resilience during the Holocaust.
Edith's story struck a chord with many sisters, as she recounted how her friendships with other women saved her life in Auschwitz. In the discussion that followed, the women focused on themes of sisterhood, solidarity and cooperation.
The November 7 event at the USC chapter of Gamma Phi Beta, and a similar gathering at the Kappa Alpha Theta sorority, were part of Zikaron BaSalon/Bringing Testimony Home, a partnership between The USC Shoah Foundation and Zikaron BaSalon, an Israel-based grassroots initiative that brings people together to talk with Holocaust survivors or their descendants in intimate gatherings. As the opportunity to speak with survivors has become rarer, USC Shoah Foundation partnered with Zikaron BaSalon to continue this tradition using testimony.
Host kits provided by Zikaron BaSalon/Bringing Testimony home make it possible for Individuals as well as institutions to host these intimate events, often held in April to commemorate Yom HaShoah and in observance of International Holocaust Remembrance Day on January 27.
"Zikaron BaSalon's model of bringing testimonies into homes — or in this case, sorority houses — is a simple and direct way to keep the memory of the Holocaust alive in people's hearts and minds," said Dr. Kori Street, Deputy Executive Director of USC Shoah Foundation. "At a time of rising antisemitism on college campuses and elsewhere, we are eager to provide ways for people to engage with the myriad voices we have in our Visual History Archive."
Gamma Phi Beta and Kappa Alpha Theta sororities, which held events as part of their Diversity, Equity and Inclusion efforts, received kits that included Edith's background, a segment of her testimony, and tips that helped leaders facilitate a solemn but intimate discussion.
"A recurring theme discussed was the profound strength that Edith exhibits in her testimony and how inspirational it was. Many members discussed how impacted they were by the anecdotes about Edith and her sisters working together to survive," said Sarah Daoudi, Gamma Phi Beta's Belonging, Equity, Diversity and Inclusion chair.
Daoudi said that one member of Gamma Phi Beta spoke about personal difficulties in the past few months due to reports of rising antisemitism in the news and antisemitic comments spread by public figures. The sister said that she appreciated the strong show of support the Zikaron BaSalon event signified, along with the support she felt from her sorority sisters.
"During this time, a sister from Gamma Phi Beta had been there for her, talking through it with her and sharing her anger. This member described just how meaningful this solidarity was for her and encouraged everyone there to be there for their sisters," Daoudi said.
Edith's story, which includes themes of sisterhood, women supporting each other after trauma and standing up against hatred in the community, resonated with the women.
Edith Eva Elefant was born in 1927 in Kosice, Czechoslovakia (now Slovakia) as the youngest of three sisters to Hungarian Jewish parents. Although she described herself as an awkward child and the "ugly duckling" of her family, she was a talented ballerina and gymnast. 
Edith's family was forced into a ghetto in March 1944 and later transported to Auschwitz-Birkenau, where she was forced to dance for Dr. Josef Mengele's entertainment on the night she arrived. After she was done, he tossed her a piece of bread, which she shared with the women in her barrack. Those women supported Edith as jher strength flagged on a death march, when she and her sister Magda were deported to Mauthausen concentration camp, where they were liberated in 1945.
After the war, Edith got married and emigrated to the U.S. in 1949 where she eventually found success as a world-renowned psychologist and best-selling author. As a longtime friend of USC Shoah Foundation, she recorded her testimony in 1995 and filmed a Dimensions in Testimony interview in 2021, at the age of 94.
International Holocaust Remembrance Day takes place on January 27. If you would like to host or attend a salon, visit our Zikaron BaSalon page.
Like this article? Get our e-newsletter.
Be the first to learn about new articles and personal stories like the one you've just read.