Top 10 IWitness Activities of 2015
Fri, 12/18/2015 - 10:42am
As 2015 comes to an end our education team takes a look at the 10 IWitness activities most assigned by educators.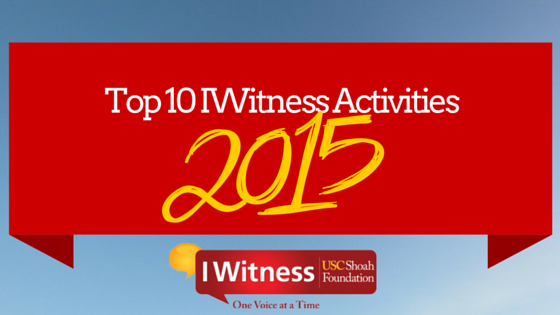 All activities are available to use in your classroom for free. Discover more activities in IWitness by searching the library of ready-made activities in several languages or customize your own.   
1.Inner Strength, Outward Resistance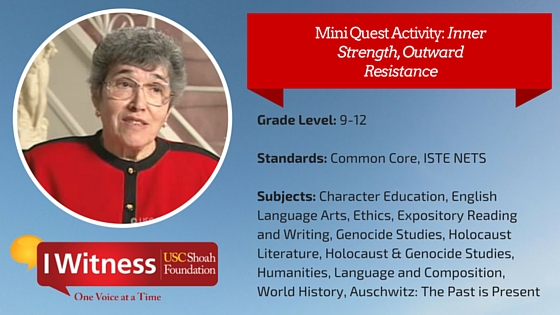 Through an analysis of testimony, students learn about the resistance efforts that took place in the Auschwitz camp complex and about the meaning of resistance in the context of the Holocaust in this mini quest activity, Auschwitz – Inner Strength, Outward Resistance. Learn more
2. Arrival at Auschwitz - Images and Individual Experiences
In this mini quest activity, students consider the personal experiences of those who arrived on the ramp at Auschwitz-Birkenau. Students explore images from the Auschwitz Album, showing the arrival of Hungarian Jewish men, women and children in 1944, as well as, listen to survivors who endured a similar process. Learn more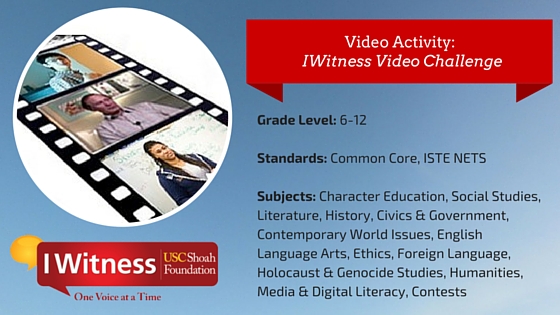 In this video building activity, students listen to testimonies in IWitness, develop insight into the opportunities for change in their community, get motivated to make a difference and build a video essay telling their story of how they made their community and our world a better place. The IWitness Video Challenge highlights the extraordinary change that can occur when ordinary people make positive choices. Are you and your students ready to make a difference? Learn more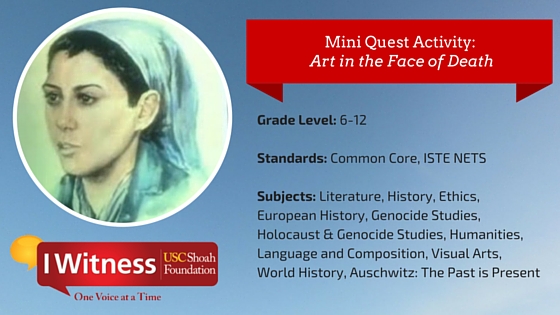 In this mini quest activity asks students to consider artwork produced as a response to the experience of Auschwitz-Birkenau and to produce their own artistic responses to what they learned. Learn more
5.  Information Quest: Kristallnacht
In this activity, students will engage with testimonies of individuals who experienced the Kristallnacht pogrom. They will learn about the experiences of these individuals, as well as the larger effects on Germany, Austria and the Jewish community in Europe. Additionally, students will gather information from both primary and secondary sources related to this event in order to construct a word cloud, or "word picture." Learn more
6. Growing up 'Behind the Barbed Wire' of Auschwitz
In this Information Quest students are introduced to three child survivors of Auschwitz, who were close in age to secondary school students of today when they lived through the Holocaust. Learn more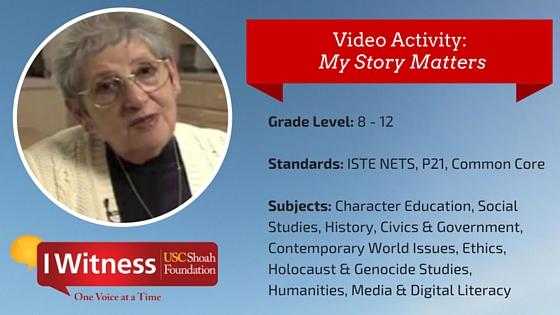 This video building activity draws on the basic human need to tell stories and share personal experiences with others. My Story Matters focuses on the importance of individuals sharing stories of survival for their own benefit, for the benefit of others, and for the collective benefit to the world. Learn more
8. 1936 Olympics: Race, Politics & Civil Rights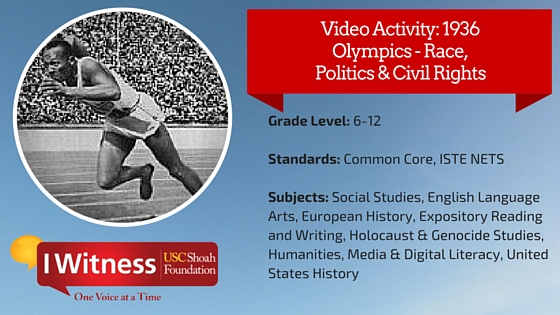 In the video activity students examine the issue of civil rights and the presence of racism in society through the lens of the 1936 Berlin Olympics and construct a video project that illustrates the prominence of racism in both the United States and Europe during this period. Students are introduced to the civil rights abuses under Hitler during this period, as well as the personal story of black American Olympian track star Jesse Owens, whose civil rights were also curtailed at this time – in the United States. Learn more
9. Information Quest: Paula Lebovics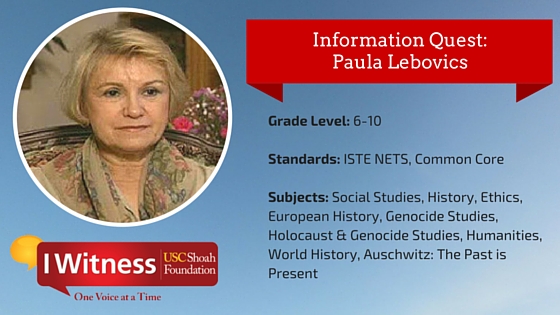 This Information Quest is designed for students to learn about the experiences of Paula Lebovics, a Holocaust survivor who was imprisoned in the Auschwitz-Birkenau concentration camp as a child. Students learn about the Auschwitz camp complex and engage in close reading of the testimony of one Holocaust survivor who was imprisoned there. Students also identify content-specific words and reflect on their significance to the text, their peers and to themselves. The final product is a Word Cloud. Learn more
10. Information Quest: Kurt Messerschmidt
Kurt Messerschmidt is one of the most recognizable faces on IWitness, and his Information Quest allows students to learn more about his life and how he survived the Holocaust. Students will engage with their assigned story using a built-in tool that enables each to create a word cloud, a fitting title, a meaningful quotation, and a personal response to reflect individual feelings and perceptions about the story.  Learn more
Like this article? Get our e-newsletter.
Be the first to learn about new articles and personal stories like the one you've just read.