10 Interesting Facts about the Refugee Experience
Fri, 06/17/2016 - 3:54pm
By: Deanna Hendrick
June 20th is recognized by the United Nations as International Refugee Day to raise awareness of the plight of the refugees around the world. In the Visual History Archive, the testimonies of genocide survivors include their personal experiences as refugees. As of now, the world is facing the biggest refugee crisis since World War II. To shed light on the current and past refugee crisis explore 10 interesting facts about the refugee experience.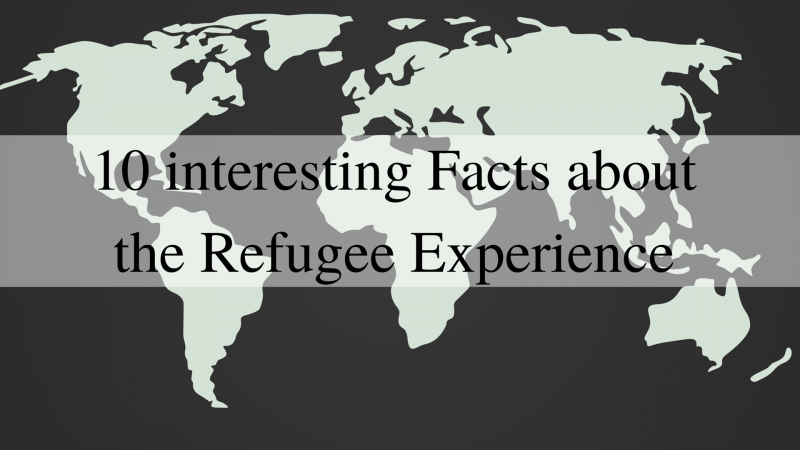 1. Refugee vs. Displaced Person
According to, the International Committee of the Red Cross, Refugees are people who are outside the country of their nationality "owing to a well-founded fear of being persecuted" (1951 Refugee Convention). Internally displaced persons (IDPs) have fled their homes but have not crossed an international frontier."
Live Wesige on life in a refugee camp
Tutsi survivor Live Wesige describes how his life changed dramatically when living in a refugee camp in Goma. Coming from a privileged family, Wesige wasn't prepared for the means of survival.
2. Opposition to the admission of refugees 
The response to the current refugee crisis has been a controversial issue for several countries including the United States. However, even in World War II many countries were skeptical of taking in Jewish refugees similar to countries unwilling to take in refugees from the Middle East and other countries.
On May 13, 1939 a German ocean liner, the St. Louis set sail from Hamburg, Germany, bringing 937 passengers to Havana, Cuba. Almost all of the passengers were Jewish refugees, most of which were German citizens. As the ship set sail, it was exposed that the political situation in Cuba would result in these refugees being turned away. The US State Department, in addition to some Jewish organizations, were made aware of this situation but not willing to act upon it. When the St. Louis arrived in Havana, only 28 passengers were allowed entrance into Cuba. After reaching out to the US government, the refugees received no response. The remaining 908 passengers were forced to return to Europe.
Sol Messinger on the ship St. Louis
Sol Messinger was a young boy, nearly seven, when he boarded the ship St. Louis with his family. He describes the voyage from Germany to Cuba. St. Louis was a German ship carrying Jewish refugees who were not permitted to disembark in Havana, Cuba, upon their arrival on May 27, 1939. Sol's testimony is featured in the  IWitness activity, Voyage of the St. Louis: From Hope to Despair.
3. Many refugees are children 
According to Global Citizen, children make up about half of all refugees (46%). As refugees children experience violence, hunger and possible separation from their family's children and an interruption in their education. Throughout history parents had to make the difficult decision to send their children away with strangers with the hopes of saving their lives.
In 1938, Nicholas Winton a British stockbroker organized the safe transport of 669 Jewish children from Czechoslovakia to Britain before the outbreak of World War II. Eight trains in total carried children from Prague to Britain, where local families took them in. Most of the children's parents were later killed at Auschwitz.  The Kindertransport is mentioned in over 700 testimonies in the Visual History Archive. 
"I have the greatest admiration for England and the English people. They were the only country that took us in." Ruth Jacobs.
4. The current refugee crisis 
According to the Washington Post, there are more than 51 million people displaced around the world due to conflict and violence. In World War II there was an estimated 81.6 million people displaced. 
Fred Anstcherl on being rejected as a refugee
Jewish survivor Fred Anstcherl talks about being boycotted by the Swiss Jews while living as refugees in Switzerland. The indigenous Jewish community believed the Austrian and German Jewish refugees would undermine their existence, and they did not want them in their country. The Quakers and other Christian groups were very kind to the refugees by contrast.
5. Not all refugees live in camps 
In her testimony Ida Chait talks about her experience as a Jewish refugee in Komi, Russia and having to relocate to Samarkand in cattle cars on a journey that took over 30 days. She and her family had to live on the streets of Samarkand for 6 weeks, until her father was able to get a job as a tailor. 
6.  Refugee camps can feel like a prison
For many Syrian refugees are seeking refuge in prison-like camps. According to National Geographic, refugees accepted into the camp are registered and then confined into the camp enclosed by a fence. Refugees are not allowed to exit and re-enter on their own free will and are guarded by armed police officers.
Throughout history refugees after fleeing their homes, escaping war and genocide, many refugees were stilled interned in camps.
Alfred Broch on life as a refugee in England
Jewish survivor Alfred Broch discusses the internment process that Jewish refugees underwent in England and the various categories of freedom they were given with levels A, B and C.
7.  The continued persecution of Yezidis  
Yezidis are a Kurdish minority and adherents of the Yezidi (or Yazidi) religion who were also persecuted during the Armenian Genocide. Between 200,000 and 1,000,000 Yezidis today live in eastern Turkey, northern Syria and northwestern Iraq.
The Armenian Genocide Testimony collection contains a handful of testimonies from Yezidis survivors who fled Ottoman military incursions in 1918 against Armenian military units in the modern provinces of Kars and Iğdır (both in modern-day Turkey). The interviews are rare due to the lack of awareness and knowledge of the Yezidi experiences during the period. Considering the recent Genocide perpetrated against Yezidis by ISIS forces in the summer of 2013 in Sinjar, Iraq, these interviews give light to an earlier persecution about 100 years ago.
8.  The benefits of refugees 
What do Albert Einstein, Freddy Mercury, Madeleine Albright, Sigmund Freud and Gloria Esteban have? They were all refugees who went on to shape the world in either entertainment, politics or science. This small list of the many refugees who have had profound impact on the world signifies the importance of accepting refugees.
Refugees should not be seen as a burden but as a positive contribution to a nation. John Cassidy of the New Yorker, states the increase of Syrian refugees in Turkey will actually help expand country's economy will by three per cent this year and by four per cent next year.
In the Visual History Archive, refugees including politicians, world leaders, athletes, entertainers and fashion designers. 
Victor Borge performs a piano piece
Victor Borge was originally born in Copenhagen, but fled to Sweden once Nazis occupied Denmark during World War II. He managed to escape to the United States in 1940 on one of the last neutral ships leaving Europe. While in the U.S, Borge went on to become a famous comedian, conductor, and pianist. In this clip, he is playing a lullaby written by one of his father's friends.
9.  The term "Refugee" in the Visual History Archive 
The Visual History Archive contains 53,000 eyewitness testimony to the Holocaust, Armenian Genocide, Genocide against the Tutsi 1994 in Rwanda and the Nanjing Massacre. The term refugee is mentioned in 14, 495 of these testimonies. In the Archive there are 374 indexing terms mentioning refugee, ranging from refugee children to refugee camp malnutrition to even anti-refugee experience.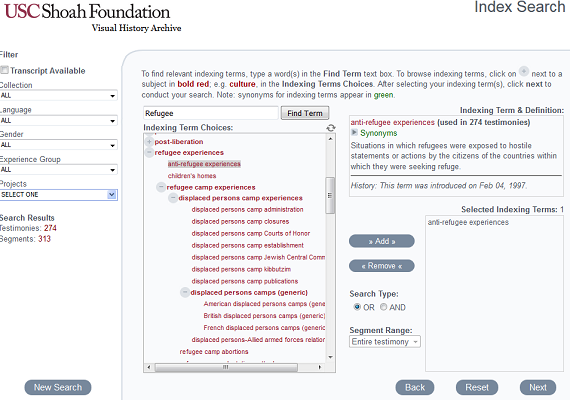 10. Listen to a refugee story every hour on World Refugee Day  

Explore 24 different stories from genocide survivors on their experiences as refugees throughout the last 100 years. Join the conversation and share how these stories impact your views of the current and past refugee crisis with #24RefugeeStories. 
Refugee Experiences from Around the World
USC Shoah Foundation presents 24 stories of genocide survivors who recall their experiences as refugees in their testimonies preserved in the Visual History Archive. Each clip of testimony to inspire, inform and shed light on the impact of war, genocide and massacre forcing individuals from their homes.  
Also:
Martin Šmok's blog about using testimony to illuminate the plight of current-day refugees in his native Czech Republic.
Kizito Kalima on the refugee camp shortly after the genocide
June 20th is recognized by the United Nations as International Refugee Day to raise awareness of the plight of refugees around the world. Kizito Kalima, a survivor of the Rwandan Tutsi Genocide, remembers the makeshift refugee camp in the region shortly after the genocide.
Like this article? Get our e-newsletter.
Be the first to learn about new articles and personal stories like the one you've just read.