2021 Year in Review
Thu, 12/16/2021 - 12:30pm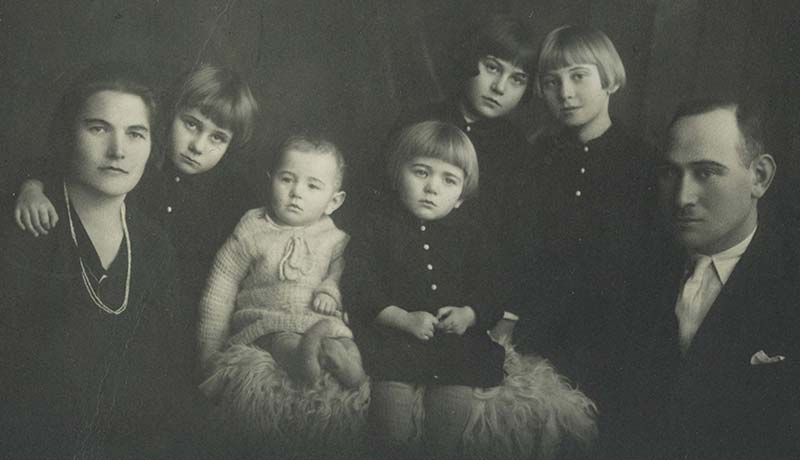 Another year dominated by the ongoing pandemic draws to a close. From producing animated films to conducting interviews, forging new partnerships and sharing incredible testimonies, 2021 was a year to remember. Here are some of the highlights of the work the Institute has accomplished.
December 10, 2021
USC Shoah Foundation and The Willesden Project today launch the premiere of Music Dreams, an animated short film story telling the story of Lisa Jura, a young Holocaust survivor who in 1938 escaped from Vienna to London on the Kindertransport.
November 29, 2021
Longtime USC Shoah Foundation Executive Committee and Board of Councilors member Mickey Shapiro has provided a major endowed gift to create an inaugural academic chair at the Institute that will be dedicated to deepening the study of the impact of Holocaust education.
November 2, 2021
When the Coronavirus pandemic banished students and teachers from classrooms in March 2020, Liza Manoyan scrambled to shift to distance learning. Figuring out the technology was one thing. But she faced another challenge. "There are not a lot of digital resources for teaching in Armenian," she said.
October 13, 2021
When Deborah Long was a teenager, she often came home to find her mother sitting with the latest issues of Life or Look magazine, quietly tearing out pages. "You see this picture?" her mother would say. "She looks a little like my older sister Ryfka." Or, "This movie star right here? He reminds me of my father. So handsome."
October 6, 2021
Executive Director Stephen D. Smith will step down at the end of 2021 but continue to serve the institute as executive director emeritus.
October 5, 2021
Until he retired from the Soviet Red Army in 1967, Leonid Rozenberg carried the banner at the head of the semi-annual military parade in the city of Lugansk, in what is now Ukraine, with hundreds of fellow soldiers marching behind him and thousands of spectators cheering him on. Although highly decorated – his chest was covered in medals – the honor of leading the parade was tainted for Leonid. During his 26 years in the Soviet military Leonid was never promoted beyond the rank of lieutenant colonel. The reason? He was a Jew.
August 30, 2021
For decades Nathan Poremba deflected his son Joel's questions about his experiences as a child during the Holocaust. But when an interview with USC Shoah Foundation inspired Nathan to talk, Joel could not bear to face his father's past. It would take a fateful trip to Israel 20 years later to bring the two together to explore the story.
July 2, 2021
Rukesha's testimony, along with six other interviews from The 600 documentary, was recently integrated into USC Shoah Foundation's Visual History Archive, which now holds 135 indexed and searchable interviews connected to the Genocide Against the Tutsi Rwanda. The majority of these testimonies were collected by Aegis Trust and the Kigali Genocide Memorial, in partnership with USC Shoah Foundation. The seven new testimonies include the first accounts of Rwandan liberators to be added to the collection.
June 11, 2021
In October 1942, when deportations from the Warsaw ghetto paused, more than 20 youth groups and underground units coalesced into a united front. Vladka Meed channeled her despair at losing her family into fighting the Nazis.
June 4, 2021
On the day that Faye Schulman's parents and siblings were killed, along with almost all the Jews of her Eastern Polish town of Lenin, Schulman (then Faigel Lazebnik) was pulled aside by a Nazi officer. The Nazi official had been to Schulman's studio a few weeks previously. After invading the town in 1942, the Nazis had ordered the talented young photographer to take photographs—both to document their activities in the town and to provide their officers with vanity portraits. Schulman remembered the photo session with the Nazi who now pulled her aside.
May 10, 2021
Under an assumed identity, Joseph André Scheinmann ran a French Resistance network of 300 agents that funneled information to the British. After his arrest and internment, he continued his scheming to save the lives of 100s of fellow prisoners.
April 27, 2021
"My mom always told me, no matter how good you get at sports, no matter how well you do at anything, people will always remember you for your character. And I truthfully feel that way with anyone I interact with. She calls it a big heart."
January 26, 2021
USC Shoah Foundation this week will launch a Teaching with Testimony Webinar for K-5 educators featuring the exclusive global premiere of Ruth: A Little Girl's Big Journey, an animated short film that brings to life the remarkable childhood journey of media personality, author and Holocaust survivor Dr. Ruth K. Westheimer, known the world over as Dr. Ruth.  
 
Like this article? Get our e-newsletter.
Be the first to learn about new articles and personal stories like the one you've just read.